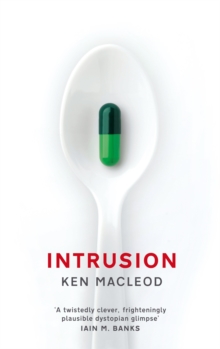 Description
Imagine a near-future city, say London, where medical science has advanced beyond our own and a single-dose pill has been developed that, taken when pregnant, eradicates many common genetic defects from an unborn child.
Hope Morrison, mother of a hyperactive four-year-old, is expecting her second child.
She refuses to take The Fix, as the pill is known. This divides her family and friends and puts her and her husband in danger of imprisonment or worse.
Is her decision a private matter of individual choice, or is it tantamount to willful neglect of her unborn child?A plausible and original novel with sinister echoes of 1984 and Brave New World.
Information
Format: Paperback
Pages: 416 pages
Publisher: Little, Brown Book Group
Publication Date: 01/03/2013
Category: Science fiction
ISBN: 9781841499406
Free Home Delivery
on all orders
Pick up orders
from local bookshops
Reviews
Showing 1 - 2 of 2 reviews.
Review by gregandlarry
16/06/2015
Where is the line between public interest and personal rights?
Review by AlanPoulter
16/06/2015
The title of this novel refers to the 'Fix', a genetic 'cleanser' that does away with any abnormalities in unborn babies. Hope Morrison is an ordinary working Mum who has a young boy, and is pregnant again but she does not want to take the the Fix. If she had a 'faith' objection there would be no problem in her missing it, but since she does not, the state intrudes with the excuse of supporting the 'rights' of the unborn child. And then things start to escalate...Along the way there are many genuinely funny elements to this book. The caricatures of a Labour MP who stands for nothing beyond his own self interest and a Marxist academic who writes about rebellion but who sold out years ago are delightful. But this novel has a heart of darkness, just like '1984'. There is no escape from the petty rules and regulations that smother freedom, and no hiding place from the ever present surveillance. Despite pretending to live in a free society, everyone knows about the 'grey' gulags and the police do what they want to suspects who are offered free trauma counseling afterwards. Ironically, there is something different about Hope's child, which is suspected by her husband and his family in Skye, which is where Hope flees in a fruitless bid to escape. The most dystopian element in this book is the lack of an obvious fix for this moribund society, as the only ways forward seem to be either through an 'exit' that only exists in the perception of a few with the right genes or burning everything down and starting again.