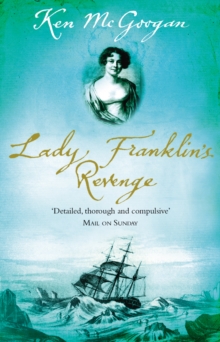 Lady Franklin's Revenge
Paperback
Description
Born into a wealthy London family in late-eighteenth-century England, Jane Griffin enjoyed nothing like the opportunities available to men of her class. And yet she became a world traveller, ranging far off the beaten path of Grand-Tour Europe to explore Russia, Greece, the Holy Land and northern Africa.
She rode a donkey into Nazareth, sailed a rat-infested boat up the Nile River, and, at age of seventy, circumnavigated the globe in rough sailing ships.
Jane married Captain John Franklin at thirty-six. She helped him seize the opportunity of a lifetime - leadership of a Royal Navy expedition destined, supposedly, to solve the final riddle of the Northwest Passage.
After Franklin disappeared into the Arctic, she badgered the Admiralty into dispatching dozens of ships to locate him; she financed voyages through public subscription, paid for others out of her own pocket, and inspired even the president of the United States to contribute to the search.
In 1854, when explorer John Rae returned from the Arctic with news that the final survivors of the Franklin expedition, while starving to death, had degenerated into cannibalism, Jane enlisted the celebrated Charles Dickens to repudiate him.
She then sent Leopold McClintock to the area Rae had specified, and he brought back the evidence she sought, exonerating Franklin personally and opening the way to her creation of a legend.
Free Home Delivery
on all orders
Pick up orders
from local bookshops
Reviews
Showing 1 - 1 of 1 reviews.
Review by SeriousGrace
16/06/2015
Lady Jane Franklin is right up there with Freya Stark and Isabella Bird when it comes to fearless lady travelers - except Stark and Bird were barely born before Franklin started her travels. She truly was a pioneer in female expeditions. Although Nancy Pearl doesn't include Franklin in her chapter on the subject in <em>Book Lust</em>, Franklin was the first to venture to far off places such as Russia, Africa and the wilds of Australia at a time when Victorian women were expected to stay at home, be dutiful wives and raise docile families. Jane Griffin was different. From a very young age she couldn't be bothered with such domestic pursuits. She wanted an education, an adventure, and to be an outspoken voice. Even after marrying John Franklin and becoming an instant mother to his four year old daughter, Jane Franklin felt no parental responsibility and continued to travel on her "own" (servants and escorts ignored). It was only after her husband, now Sir John Franklin, disappeared in the Arctic that Lady Franklin realized another obsession besides travel - to bring her husband home. She spared no expense and pulled out all the stops to convince high-powered officials that her husband's expedition was worth searching for. At a time when America and Great Britain were not on the best of terms, Lady Franklin worked deals with both countries to send rescue expeditions into unknown waters. She worked tirelessly to keep the missing ships in the minds of everyone.
Also by Ken McGoogan