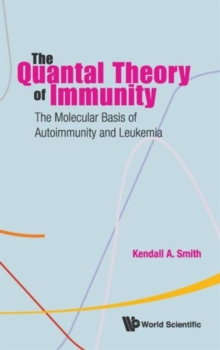 Quantal Theory Of Immunity, The: The Molecular Basis Of Autoimmunity And Leukemia
Hardback
Description
This book explains how the immune system functions, namely, how individual cells of the immune system make the decision to respond or not to respond to foreign microbes and molecules, and how the critical molecules function to trigger the cellular reactions in an all-or-none (quantal) manner.
To date, there has not been a complete description of the immune system and its cells and molecules, primarily because most of the information has accumulated only in the last 40 years and our understanding has been expanding rapidly only in the last 20 years.
It is now clear that the cells have evolved a way to "count" the number of foreign antigenic molecular "hits", and they only react when a critical number of events have accumulated.
Subsequently, control over the reaction is transferred to a systemic lymphocytotrophic hormone system that determines the tempo, magnitude and duration of the immune reaction.This book explains in detail how the immune system, cells and molecules work for the first time.
With this understanding as a basis, the pathogenesis of autoimmunity can now be understood as a mutational usurpation of the genes encoding molecules that participate in a sensitive feedback regulatory control of the immune reaction.
By comparison, malignant transformation is understood as a mutational usurpation of the genes encoding the molecules that control the quantal decision to proliferate, so that normal ligand/receptor cell growth control is circumvented.
Information
Format: Hardback
Pages: 244 pages
Publisher: World Scientific Publishing Co Pte Ltd
Publication Date: 01/11/2009
Category: Immunology
ISBN: 9789814271752
Free Home Delivery
on all orders
Pick up orders
from local bookshops