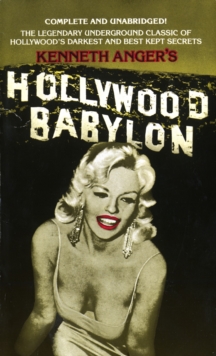 Hollywood Babylon : The Legendary Underground Classic of Hollywood's Darkest and Best Kept Secrets
Paperback
Information
Format: Paperback
Pages: 448 pages, illustrations
Publisher: Bantam Doubleday Dell Publishing Group Inc
Publication Date: 15/11/1981
Category: Films, cinema
ISBN: 9780440153252
Free Home Delivery
on all orders
Pick up orders
from local bookshops
Reviews
Showing 1 - 5 of 8 reviews.
Previous | Next
Review by ablueidol
16/06/2015
Interesting, covers similar ground as like LA Confidential but over the 20-50's in a Chandler hard-boiled type tone. Would have been revealing when it was published in the 1970's but the world has moved on
Review by h3athrow
16/06/2015
Anyone with an interest in the history of film, celebrity gossip, pop culture, or true crime should read this book. Focusing primarily on the pre-code years of tinseltown, the book looks at the silver lining of the seamy underbelly of the movie-making beast. Absolutely fascinating. A need to read.
Review by kraaivrouw
16/06/2015
Perez Hilton's precursor - early Hollywood scandal proving that the more things change the more they stay the same.
Review by u4ik
16/06/2015
I first bought this book right out of college and loved it for being so salacious and juicy. I read it for a 2nd time recently then did Wikipedia searches on lots of the silent stars: Theda Bara, Clara Bow, Olive Thomas and a few others.........only to find that most of the info in this book on these folks is pure slaner, libel, myth, urban legend.........whatever you want to call it......pure FALSEHOODS!!! Reader, please double check at least one other source before you believe any of the tales spun in this book!
Review by carterchristian1
16/06/2015
Having just returned from a trip to Hollywood, walking the path of the stars, taking in Hollywood Boulevard, this is a terrific reminder. Never mind the truth of the text, just take in the photographs. Black and white, so appropriate. Just wonderful for the film buff. And much of the silent film stuff was new to me.