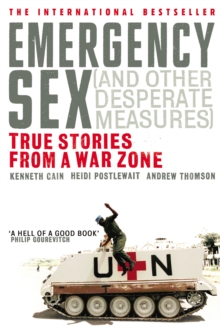 Emergency Sex (And Other Desperate Measures) : True Stories from a War Zone
Paperback
Description
It's the early 1990s and three young people are looking to change their lives, and perhaps also the world.
Attracted to the ambitious global peacekeeping work of the UN, Andrew, Ken and Heidi's paths cross in Cambodia, from where their fates are to become inextricably bound.
Over the coming years, their stories interweave through countries such as Rwanda, Bosnia, Somalia and Haiti - war-torn, lawless places where the intervention of the UN is needed like nowhere else.
Driven by idealism, the three struggle to do the best they can, caught up in an increasingly tangled web of bureaucracy and ineffectual leadership.
As disillusionment sets in, they attempt to keep hold of their humanity through black humour, revelry and 'emergency sex'. Brutal and moving in equal measure, Emergency Sex (And Other Desperate Measures) explores pressing global issues while never losing a sense of the personal.
Deeply critical of the West's indifference to developing countries and the UN's repeated failure to intervene decisively, the book provoked massive controversy on its initial publication.
Kofi Annan called for the book to be banned, and debate was sparked about the future direction of the UN.
Brilliantly written and mordantly funny, it is a book that continues to make waves.
Information
Format: Paperback
Pages: 320 pages
Publisher: Ebury Publishing
Publication Date: 01/05/2006
Category: True stories
ISBN: 9780091908867
Free Home Delivery
on all orders
Pick up orders
from local bookshops
Reviews
Showing 1 - 1 of 1 reviews.
Review by fieldnotes
16/06/2015
During the long anticlimax of this book, when all three authors start writing their final reports, Ken summarizes their effort: "Collectively we experienced—maybe represent—all the exultation and catastrophe of a decade spent trying and failing to do well by doing good in a new world." He and his role model Andrew can't shake this tragic tone; instead, they use their respective religions to contextualize themselves as martyr heroes in a brutally flawed machine that converts youth, trust and idealism into bureaucracy, buck-passing and corpses.Heidi, the secretary from New Jersey, regularly criticizes her co-authors for exactly this failing and effectively carries their book with her energy and authenticity. With the exception of maybe four paragraphs of abstracted and awkward love making contributed by the men, Heidi is also responsible for almost all of the "Emergency Sex." I'm pretty sure there's a whole incredibly popular genre of tell-all memoires written by sexually liberated women (for sale near the cash register, at the airport). I haven't read any of these. So, I don't know if Heidi's prose is derivative and I was prepared, instead, to find her sections of the book totally refreshing. In the midst of the grim ethical calculations being made by the two male leads, it's a treat to find Heidi writing:"I'll have to act all earnest and somber too and nod my head a lot. I'll have to ask relevant questions, and the whole time Ken will be nervously waiting for me to use foul language, and when I do, he'll smile and make that little coughing sound to show everyone he's disassociating himself from me."All of the authors foreground their thoughts about one another and their tendency to rank and rate themselves against their colleagues. This depiction of the credibility culture of hard core aid workers was particularly fun to oversee. "Emergency Sex" is, as the title would suggest, a voyeuristic book. It's an all access pass to a very exclusive club: board that helicopter, enter that dank secret prison, jump into the mass grave, or kick your daiquiri's back poolside with the do-gooding jet set.But amidst this formidable momentum, the book is also polemical. With first-hand experience, Cain and Thomson argue (not originally) that following the U.S. Military casualties in Somalia, both the U.S. and the U.N. failed spectacularly at their mandates and humanitarian objectives and, worse, betrayed the trust of the vulnerable people to whom they promised safety and protection. Their disillusionment at being part of these failures effectively balances the heady self-satisfaction that makes the first part of the book seem like a recruiting advertisement for the UN.This would be a rewarding book to teach to high school students and it would be easy to read while traveling or on vacation. It is enjoyable but not essential.
Also by Kenneth Cain