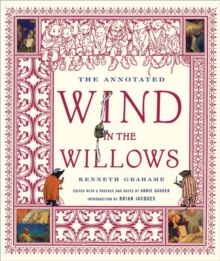 The Annotated Wind in the Willows
Hardback
Description
"Believe me, my young friend, there is nothing-absolutely nothing-half so much worth doing as simply messing about in boats."-the Water Rat to the Mole An instant bestseller upon its initial publication in 1908, The Wind in the Willows has become one of the beloved stories of all time.
How could Ratty and Mole have known when they took to the river over one hundred years ago that they would begin a phenomenon that would produce one of the most oft-quoted lines in British literature, and inspire everyone from the creator of Winnie-the-Pooh to Pink Floyd?
Drawing from more than a decade of research, Annie Gauger, one of the world's leading experts on Kenneth Grahame and The Wind in the Willows, now presents a fascinating new annotated edition that reintroduces readers to Otter, curmudgeonly Badger, and rollicking, boastful Toad, while revealing the secrets behind this treasured classic. In The Annotated Wind in the Willows, readers will discover the sheer joy of the original text, restored to the original 1908 version, illustrated with hundreds of full-color images-including the beloved drawings by E.
H. Shepard and Arthur Rackham. This edition also includes Shepard's famous map of the Wild Wood and rarely seen images by illustrators Graham Robertson, Paul Bransom, Nancy Barnhart, and Wyndham Payne. In an illuminating preface, Gauger explains how Grahame came to write the novel, which began as a bedtime story and then became a series of letters he wrote to his son, Alastair.
This edition reproduces the original letters in their entirety and includes nearly a thousand delightful annotations on everything from automobiles (Toad drove an Armstrong Hardcastle Special Eight) and early motorcar etiquette to modern manifestations (Disneyland's Mr. Toad's Wild Ride). She reveals how William John Cavendish Bentinck-Scott, the peculiar Fifth Duke of Portland, built an extensive network of underground tunnels, thus inspiring the character of Badger, and she puts Grahame's work in literary context, comparing him to Dickens, Rudyard Kipling, A.
A. Milne, and Sir Arthur Conan Doyle. Finally, new to this edition, long buried in the Kenneth Grahame papers, are the notes, letters, and writings by Alastair Grahame and his governess, including several pieces by Kenneth Grahame himself that have never been published before. With a stunning, lyrical tribute to Grahame by Brian Jacques, the internationally best-selling author of the Redwall series, The Annotated Wind in the Willows should prove a most beautiful and enduring tribute to Grahame's masterpiece.
Information
Format: Hardback
Pages: 480 pages, 182 illustrations, color throughout
Publisher: WW Norton & Co
Publication Date: 06/04/2009
Category: Classic fiction (pre c 1945)
ISBN: 9780393057744
Free Home Delivery
on all orders
Pick up orders
from local bookshops
Reviews
Showing 1 - 2 of 2 reviews.
Review by Lesliejaneite
16/06/2015
I never read this as a kid because by the time I discovered it, I was already 9 or 10 and too embarassed to be caught reading a "kiddie" book. What nonsense! I'm 40 now and reading unabashedly. What a delightful and charming book. I melted into giddy bliss last night when I came upon this passage: "Never in his life had he seen a river before-this sleek, sinous,full-bodied animal, chasing and chuckling, gripping things with a gurgle and leaving them with a laugh, to fling itself on fresh playmates that shook themselves free, and were caught and held again. All was a-shake and a-shiver-glints and gleams and sparkles, rustle and swirl, chatter and bubble. The Mole was bewitched, entranced, fascinated. By the side of the river he trotted as one trots, when very small,by the side of a man who holds one spellbound by exciting stories; and when tired at last, he sat on the bank, while the river still chattered on to him, a babbling procession of the best stories in the world, sent from the heart of the earth to be told at last to the insatiable sea." Sigh. This is now my all time favorite bookd. Ever. I already know it's never going to be replaced. Another laugh out loud passage is after suffering an intervention by his friends being locked up for his own good (for horrible dangerous driving) , Toad makes a run for it and then STEALS A CAR! . .."the old passion seized on Toad and completely mastered him, body and soul. As if in a dream, he found himself somehow, seated in the driver's seat; as if in a dream,...all sense of right and wrong, all fear of obvious consequences, seemed temporarily suspended...As the car devoured the street and leapt forth on the high road through the open country, he was Toad once more, Toad at his best and highest, Toad the terror, the traffic queller, the Lord of the lone trail, before whom all must give way or be smitten into nothingness and everlasting night. The Wind in the Willows is good for the soul. It has been a long time since I have laughed out loud at a book and since I have been so charmed, so delighted. I'm sorry to find there isn't much else out there by Kenneth Grahame. I know I shall re-read this once a year and whenever I need someting to smile about.(less)
Review by unclebob53703
16/06/2015
Favorite book of all, lots of lovely annotations. More useful to read about the book than to read the story itself.
Also in the The Annotated Books series | View all