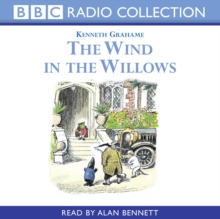 Wind in the Willows - Reading
CD-Audio
Description
'There is nothing, absolutely nothing, half so much worth doing as simply messing about in boats.' When the Water Rat invites the unassuming Mole to spend his first day ever in a boat on the river, and wise Badger comes along for the ride as well, so begins a marvellous season of adventure for the three friends.
Mr Toad (he of Toad Hall) completes a happy foursome, but his tendency to get into hot water leads him into some rather hair-raising scrapes of his own. From an idyllic riverside picnic to a snowy encounter in the Wild Woods, and from poop-pooping in Toad's shiny new motor car to fighting against the massed ranks of Stoats, Weasels and Ferrets in a battle for Toad Hall, there's never a dull moment when they are all together! In his own inimitable style, Alan Bennett gives voice to each and every character in Kenneth Grahame's beguiling novel. 3 CDs. 3 hrs.
Information
Format: CD-Audio
Publisher: BBC Audio, A Division Of Random House
Publication Date: 05/08/2002
Category: Classic
ISBN: 9780563536864
Free Home Delivery
on all orders
Pick up orders
from local bookshops
Reviews
Showing 1 - 2 of 2 reviews.
Review by Helenliz
16/06/2015
If ever there was a more perfect concatenation of material and reader (with a touch of nostalgic memory thrown in), I'm not sure I've heard it. As a child the BBC had a programme with a very simple idea - someone would sit and, for 15 minutes each night, read a children's story. Usually over a week, but sometimes over several weeks. Sometimes they'd be in a chair, sometimes they'd read it on location, sometimes there would be still cartoons or illustrations to accompany the reading. A more simple idea would be difficult to imagine and yet it worked - brilliantly. Somewhere lodged deep in my memory is the remembrance of hearing Alan Bennett (who I had never heard of at that stage) read. He most famously read Winnie the Pooh ()and a more doleful Eeyore has never been heard) but he also did Wind in the Willows for Radio. He has such a dry narrative voice, but did all the voices, from the humble Mole the farmer-esque badger, the slightly Henley ratty and the ebullient Toad. And in my memory it has stayed, so when I saw it on CD in the library, i snapped it up. And it is every bit as good as memory imagined. for a start, the text is divine. Hearing it again I had to wonder if Grahame had written it with an ear to it being read aloud by a parent to a child, there's rhythm and alliteration and repetition throughout that would hook a child's attention. And it's such a great tale. Toad and his enthusiasms, Mole and his burrow when the carolers come, Ratty and his love for boats, badger being the fatherly figure keeping them all in line. Great text, brilliant reading and the rose tinted glasses remain thoroughly intact - how can you possibly go wrong.
Review by LaPhenix
16/06/2015
Though quirky, I didn't find this book to be exciting nor engaging.