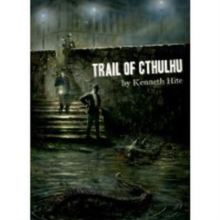 Trail of Cthulhu
Hardback
Information
Format: Hardback
Pages: 248 pages, Illustrations
Publisher: Pelgrane Press Ltd
Publication Date: 01/02/2008
Category: Science fiction
ISBN: 9781934859070
Free Home Delivery
on all orders
Pick up orders
from local bookshops
Reviews
Showing 1 - 2 of 2 reviews.
Review by Jannes
16/06/2015
 In the long time struggle between universality and specialization in roleplaying, the Gumshoe system that powers ToC takes a firm stance for the later. To me it is very much a halfway point between traditional, stat-based roleplaying and freeform, with stats and dice de-empathized and focusing on plot, mystery solving and effective horror. Whether you will like it will depend very much on what types of game you prefer running, obviously, since it will probably work better for some types of scenarios than others - but when it works it does so splendidly.It is also a very good book on lovecraftian horror gaming: ToC gently redefines the mythos in a very welcome way, and features much very well-written fluff material on everything from occult thomes to racism in the 1930s. It is almost wirth picking up the book for this reason alone even if you don't play to try the system. Which you should.
Review by BruceCoulson
16/06/2015
A translation of Chaosium's Call of Cthulhu RPG to Robin Laws' Gumshoe system. Why? Kenneth Hite explains that he wanted a game that focused on putting the clues together, rather than finding those clues, and Gumshoe's system was explicitly designed with that in mind. Trail is a fine game, with plenty of ways for a GM to modify the game to fit his players. There is a wealth of information on how to plan scenarios, and how to set the mood for a game set in the 1920s and 30s. Fans of horror games and fiction will find much in ToC to hold their interest.