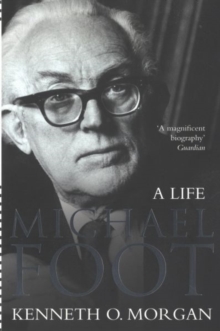 Michael Foot : A Life
Paperback
Description
The authorised - but not uncritical - life of one of the great parliamentarians and orators of our times, the former Labour Party leader, now in his nineties, who is also an eminent man of letters.Michael Foot has been a controversial and charismatic figure in British public life, political and literary, for over sixty years.Emerging from a famous west-country Liberal dynasty, he rose as a crusading left-wing journalist in the late 1930s: `The Guilty Men' (his book on the pre-war appeasers of Nazi Germany) is one of the great radical tracts of British history.
He has been the voice of libertarian socialism in parliament, an international socialist and government minister, and was Labour leader for two-and-a-half years between 1980 and 1983.His political friendships with people like Beaverbrook, Cripps, Aneurin Bevan and Barbara Castle were passionate and profound, but he also had a remarkable and quite different career as a man of letters, with Dean Swift, Tom Paine, Hazlitt, Byron, Wordsworth, Heine, Wells and Silone amongst his heroes.
Foot's two-volume life of Aneurin Bevan is a triumph of political biography.Kenneth Morgan's biography does full justice to both the public and the private side of Michael Foot - no more tellingly than his descriptions of Foot's long and happy marriage to the filmmaker, feminist and writer Jill Craigie.
Information
Format: Paperback
Pages: 512 pages
Publisher: HarperCollins Publishers
Publication Date: 01/03/2008
ISBN: 9780007178278
Free Home Delivery
on all orders
Pick up orders
from local bookshops
Reviews
Showing 1 - 1 of 1 reviews.
Review by the.ken.petersen
16/06/2015
There are several criteria by which I judge a biography; does it tell me things that I did not know about a person, did it put him/her into their historic time frame, and, perhaps the most oft missed, does it highlight weaknesses, as well as salute achievements? This book comfortably complies with all of the above list AND goes on to achieve the extra distinction of adding to my reading list. This book has lead to me purchasing five more tomes, immediately, to garner more information about people and events mentioned en passant within this work. Michael Foot was born into a Liberal family and began his political life as part of that party. He was soon to realise that they did not hold the same ideals as himself and, as a young man, found a niche on the left wing of the Labour Party. This approach to his political outlook had the advantage that he was not in awe of the Russian style communist dictatorship, as were so many other Labour idealists. This was to lead Foot into clashing with Tony Benn, the other pin up of the Labour left. Through the late seventies and eighties, Benn became a figure head for the Militant grouping which inveigled its way into the Labour Party. Militant would take over a quiet backwater Labour Constituency Party and extract the middle of the road committee, replacing them with Militant supporters. Needless to say, this did not lead to a more electable party.By the time that Michael Foot became leader, in 1980, the Labour Party was seen as unelectable and a new party, the Social Democrats, were expected to replace them. Michael took on Benn in a way that would have been unacceptable from a leader of the right, and neutralised his power. Although the next General Election saw the worst results for Labour, since the 1940's, the fightback had started and, under Neil Kinnock the boat was eventually steadied.Foot was not only a politician, he was also a journalist, not just in the political sphere, but also in Literary circles. He has produced books on Byron, Hazlitt and Swift, all worthy of their place on any bookshelf. He was still writing into his eighties and retained an interest in the Labour Party where he was delighted to see Tony Blair (hardly a protégée, although, Blair admits to having been influenced by Foot) become Prime Minister.As you can see, Foot was more Banquo than Macbeth.