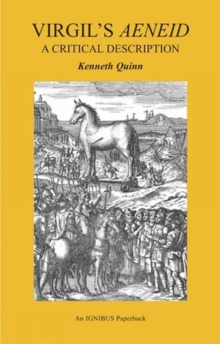 Virgil's Aeneid : A Critical Description
Paperback / softback
Description
The aim of this important and still valuable book - first published in 1968 but never before available in paperback - is, quite simply, to help all who approach Virgil's Aeneid seriously, whether in the original Latin or in English translation, to read it with discernment and appreciation.
It offers itself as neither a handbook nor a commentary, but as a critical description of the poem's structure and aspects of its composition.
It begins with a preliminary exploration of the poem's central purpose; a careful reconstruction of its literary and historical context (following the battle of Actium in 31 BC which made Augustus Caesar master of the Roman world); and a description of the main outlines of its structure.
At the book's core is a detailed analysis of each of the epic's twelve books, with particular emphasis on the later, less often read ones; and this is followed by two further chapters, one dealing with Virgil's use of form and some related theoretical problems, the other with a closer examination of the poem's verbal fabric.
Information
Format: Paperback / softback
Pages: 460 pages
Publisher: Liverpool University Press
Publication Date: 03/05/2006
ISBN: 9781904675525
Also in the Bristol Phoenix Press Ignibus Paperbacks series