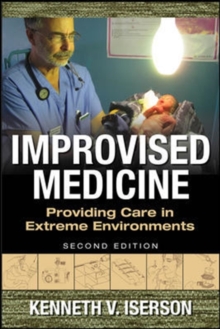 Improvised Medicine: Providing Care in Extreme Environments
Paperback / softback
Description
Deliver quality healthcare in the most challenging field conditionsComprehensive yet compact, practical, and enduring, Improvised Medicine: Providing Care in Extreme Environments, Second Edition, is the one book to toss into your bag when going to practice medicine in global, disaster, or other resource-poor settings, including theaters of war, regions of civil unrest, and economically deprived areas. Full of practical clinical pearls and field-tested strategies, this indispensable guide provides detailed instructions on how to work successfully outside of your comfort zone.
It demonstrates how to devise effective treatment solutions when the traditional tools (medications, equipment, and staff) are unavailable or when providing care outside your primary area of expertise. In any crisis, from power failures and computer crashes to floods, tsunamis, and earthquakes, knowing how to deal with the unique challenges encountered saves lives and communities.
This reference gives you that knowledge and inspires innovative crisis resolution. FROM REVIEWS OF THE FIRST EDITION:"Dr Iserson has given us a most remarkable book.
Many readers may be familiar with David Werner's lay healthworker book, Where There Is No Doctor; this new volume could be titled Where There Is a Doctor-But No Stuff.
Drawing from his experience providing care in international, wilderness, and disaster settings, he has compiled an impressive collection of bare-bones equipment and work-around strategies to provide the best possible care in resource-poor settings.
While presenting many creative examples, the purpose of the book is not to offer an exhaustive list of solutions to missing resource challenges but to inspire creativity in readers who may find themselves needing to improvise." -- Family Medicine"There is a lot of material here and, if nothing else, it may motivate more people to practice low-tech medicine and be willing to go where health care is dependent more on caring than on cost.
I recommend this book to anyone who must practice in austere environments, and it will be in my rucksack when I respond to the next disaster." - The Journal of Emergency MedicineFEATURES:*Simple-to-follow directions, diagrams, and illustrations describing practical techniques and improvised equipment necessary to provide quality care during crises *Contains improvisations in anesthesia and airway management, dentistry, gynecology/obstetrics, infectious disease/laboratory diagnosis, internal medicine, otolaryngology, pediatrics and malnutrition, orthopedics, psychiatry, and surgery*Covers situational analysis and basic needs in a crisis; specific triage, diagnosis, and stabilization efforts; medical interventions for surgical and non-surgical problems; and debunks some commonly reported improvised techniques *Features public health measures, basic disaster communication techniques, post-disaster forensics, a model hospital disaster plan, and innovative patient-transport methods*New to the second edition: More concisely written, more extensively illustrated, and updated improvisations and referencesLEARN HOW TO:*Make an endotracheal tube in seconds *Perform digital-oral and blind-nasotracheal intubations *Make plaster bandages for splints/casts *Give open-drop ether, ketamine drips, and halothane *Use subcutaneous/intraperitoneal rehydration/transfusion *Make ORS and standard nutrition formulas *Clean, disinfect, and sterilize equipment for reuse *Warm blood units in seconds inexpensively *Take/view stereoscopic x-rays with standard equipment *Quickly and easily stop postpartum hemorrhage *Fashion surgical equipment from common items *Build an evaporative refrigerator*Make esophageal and precordial stethoscopes *Quickly improvise a saline lock *Make ECG electrode/defibrillator pads and ultrasound gel*Evacuate patients easily from high-rise hospitals
Information
Format: Paperback / softback
Pages: 688 pages
Publisher: McGraw-Hill Education - Europe
Publication Date: 07/01/2016
Category: Personal & public health
ISBN: 9780071847629
Free Home Delivery
on all orders
Pick up orders
from local bookshops
Also by Kenneth V. Iserson