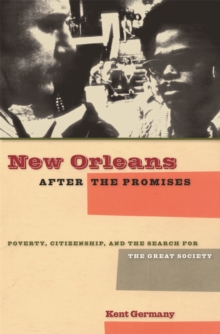 New Orleans After the Promises : Poverty, Citizenship, and the Search for the Great Society
Paperback / softback
Description
In the 1960s and 1970s, New Orleans experienced one of the greatest transformations in its history.
Its people replaced Jim Crow, fought a War on Poverty, and emerged with glittering skyscrapers, professional football, and a building so large it had to be called the Superdome. ""New Orleans after the Promises"" looks back at that era to explore how a few thousand locals tried to bring the Great Society to Dixie.
With faith in God and American progress, they believed that they could conquer poverty, confront racism, establish civic order, and expand the economy.
At a time when liberalism seemed to be on the wane nationally, black and white citizens in New Orleans cautiously partnered with each other and with the federal government to expand liberalism in the South.
As Kent Germany examines how the civil rights, antipoverty, and therapeutic initiatives of the Great Society dovetailed with the struggles of black New Orleanians for full citizenship, he defines an emerging public/private governing apparatus that he calls the ""Soft State"": a delicate arrangement involving constituencies as varied as old-money civic leaders and Black Power proponents who came together to sort out the meanings of such new federal programs as Community Action, Head Start, and Model Cities.
While those diverse groups struggled - violently on occasion - to influence the process of racial inclusion and the direction of economic growth, they dramatically transformed public life in one of America's oldest cities.
While many wonder now what kind of city will emerge after Katrina, ""New Orleans after the Promises"" offers a detailed portrait of the complex city that developed after its last epic reconstruction.
Information
Format: Paperback / softback
Pages: 424 pages, 15 b&w photos, 1 map
Publisher: University of Georgia Press
Publication Date: 15/02/2007
Category: Social & cultural history
ISBN: 9780820329000
Free Home Delivery
on all orders
Pick up orders
from local bookshops