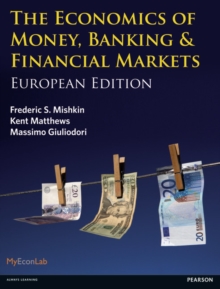 The Economics of Money, Banking and Financial Markets : European edition
Paperback / softback
Description
Were you looking for the book with access to MyEconLab?
This product is the book alone, and does NOT come with access to MyEconLab. This European adaptation takes Mishkin's market leading text The Economics of Money, Banking and Financial Markets a step further placing the central themes in context for European students.
It provides an in-depth overview and comparison of the structures, goals, tools and strategies of the European Central Bank, the Bank of England and the US Federal Reserve. Mishkin's application of a unified analytical framework to the models makes theory intuitive for students whilst the rich array of current, real-world events keeps students motivated.
Authoritative, comprehensive, and flexible, the text is easy to integrate into a wide variety of syllabi, and its ancillaries provide complete support when teaching the course. Frederic Mishkinstudied at MIT and has taught at Columbia Business School since 1983. He was a member of the Board of Governors of the Federal Reserve System from 2006 to 2008 and has been a consultant to the World Bank, the Inter-American Development Bank, and the International Monetary Fund, as well as to numerous central banks throughout the world Kent Matthewsis the Sir Julian Hodge Professor of Banking and Finance at the Cardiff Business School. He is a graduate of the London School of Economics, Birkbeck and Liverpool University and has held research posts at the LSE, National Institute of Economic & Social Research and Bank of England. Massimo Giuliodori took his first degree at the University of Ancona (Italy) and his MSc in Economics and Finance at the University of Glasgow.
After obtaining his PhD from the Scottish Doctoral Programme, he moved to the Amsterdam School of Economics of the University of Amsterdam, where he is now Associate Professor.
Information
Format: Paperback / softback
Pages: 656 pages
Publisher: Pearson Education Limited
Publication Date: 07/03/2013
Category: Finance
ISBN: 9780273731801