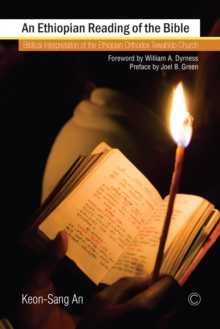 Ethiopian Reading of the Bible : Biblical Interpretation of the Ethiopian Orthodox Tewahido Church
Paperback / softback
Description
In An Ethiopian Reading of the Bible, Keon-Sang An explores the distinctive biblical interpretation of the Ethiopian Orthodox Tewahido Church (EOTC).
He illuminates the interpretation of the Bible in a particular historical and cultural context and presents a compelling example of the contextual nature of biblical interpretation.
Since the earliest years of the Christian church the EOTC has significantly informed the unique spirituality of Ethiopia.
Drawing on his own experience of teaching theology in Ethiopia, Keon-Sang An provides a comprehensive consideration of the EOTC's past and present, and examines the interplay between tradition and context in biblical interpretation.
An Ethiopian Reading of the Bible contributes much to current biblical scholarship and equips readers with the tools for a future of mutual learning.
Information
Format: Paperback / softback
Pages: 258 pages
Publisher: James Clarke & Co Ltd
Publication Date: 30/06/2016
Category: Orthodox & Oriental Churches
ISBN: 9780227175910
Also by Keon-Sang An