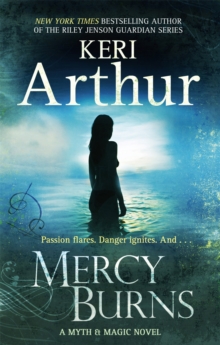 Description
Half dragon, half woman, can she save her friend's soul - without losing her heart? Mercy Wilson is a reporter in the San Francisco Bay Area, but she's also more - and less - than human.
Half woman, half air dragon, she's a 'draman' - unable to shift shape but still able to unleash fiery energy.
Now something will put her powers to the test. Mercy's friend Rainey has enlisted her help to solve her sister's murder.
Then a horrible accident claims Rainey's life, leaving Mercy only five days to find the killer.
If Mercy fails, according to dragon law, Rainey's soul will be doomed to roam the earth for eternity.
But how can Mercy help when she herself is a target?
With nowhere else to turn, she must join forces with a sexy stranger - the mysterious man they call 'muerte', or death itself, who's as irresistible as he is treacherous.
But can even Death keep Mercy alive for long enough to find her answers?
Information
Format: Paperback
Pages: 352 pages
Publisher: Little, Brown Book Group
Publication Date: 01/04/2011
Category: Fantasy
ISBN: 9780749953072
Free Home Delivery
on all orders
Pick up orders
from local bookshops
Reviews
Showing 1 - 1 of 1 reviews.
Review by aoibhealfae
16/06/2015
Mercy Burns is an urban fantasy novel that began when Mercy Wilson woke up realizing that she's in a car crash and that her friend were already dead. Even as a half-human and half-dragon kind with heightened recovery rate, she was unable to perform a prayer to her friend before the dawn took Rainy's body away. Now Rainy's soul is doomed on earth and never be free until Mercy found her killers and make them pay.<br/><br/>While on a lead, she was drugged and kidnapped, only to be lead in a cell with a dragon known as Death. By helping them both escape, Mercy knew she was on borrowed time for herself and her friend's soul and enlisted Damon's help before many more died.<br/><br/>Although I was a long time fan of Keri Arthur and currently still following her Dark Angels series, I was quite disappointed by this book. There was somewhat lacking in the story structure that made it both an Urban Fantasy and Paranormal Romance. The story greatly involve more on the plot with the dragon and half dragon communities and its people particularly against Mercy with the various attempt on taking her life. There was a metaphor against prejudices between the dragons and draman. The principles in which the characters live and the scars they survived. <br/><br/>However, in the span of several days, although there are some heat between Mercy and Damon, the story wasn't enough to intrigue a reader as a whole. There are simply too many crime stories and politics to fit inside this one volume which doesn't do well with the romantic flow between the characters as it is a stand alone story. Thus making it a subpar version of a paranormal romance and a moderate contemporary novel despite the supernatural elements.<br/><br/>I just felt there's a real problem in cramming happily-ever-after romance in this book with the time length between the characters and its prominent enough that the characterizations doesn't expand much from what they're in the beginning. The whole dragon angle is interesting but if you really like a smouldering dragon UF that balanced with the romance, Thea Harrison's Dragon Bound is probably a better alternative than this book.
Also in the Myth and Magic Series series