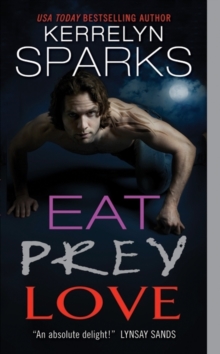 Description
New York Times bestselling author Kerrelyn Sparks is back with Eat Prey Love-another sensational installment in her witty and wonderful Love at Stake paranormal romance series.
In this simply fabulous tale of love and desire, vampires and shapeshifters, the sexy daughter of a vampire-hunting CIA agent finds untamed passion in a world she never knew existed.
Lynsay Sands, author of the wildly popular romances featuring the Argeneau vampire family, calls Kerrelyn Sparks, "an absolute delight"-and Eat Prey Love will have fans of Charlaine Harris, and Katie MacAlister howling with joy.
Information
Format: Paperback
Pages: 384 pages
Publisher: HarperCollins Publishers Inc
Publication Date: 01/09/2010
Category: Romance
ISBN: 9780061958038
Other Formats
EPUB from £3.49
eAudiobook MP3 from £18.74
Free Home Delivery
on all orders
Pick up orders
from local bookshops
Reviews
Showing 1 - 5 of 18 reviews.
Previous | Next
Review by pacey1927
16/06/2015
I really like the Love at Stake series. My favorite genre is Urban Fantasy and most of the purely romantic series end up bugging me. Sparks has been quite the exception to that rule since I read her first book "How to Marry A Millionaire Vampire". "Eat Prey Love" reminds me that Sparks is still the best of these specific genre. Her books are still most definitely romances. There is always a man and a woman who despite obstacles come together and have a happily ever after. Yet her vampire world is amazing. The focus of the story is Romatech industries, a company that makes synthetic blood. On the supernatural side they also make fine vampire cuisine...bloods like Chocoblood...blood with a hint of chocolate. Because the bad vampires are after the good ones associated with Romatech, there is plenty of security provided by McKay security. The world has just kept getting bigger and more involved as the stories have progressed. This one deals not with a vampire, but with Carlos, a were-panther, who works for the security company. He has sworn off women until he meets another of his kind. He fears they are becoming extinct and wants to mate specifically to carry on their kind. Then he meets Caitlyn. Caitlyn has just discovered this world after reuniting with her long lost sister who is now married to the vampire Roman who owns Romatech. Caitlyn has her own special gift, but she is no were-panther. Can she overcome Roman's objections and make him see that she is the one for him? The characters are quirky and endearing as always. I love visiting with other couples from previous installments to the series. I love pondering which of the the single people that show up in the stories will eventually turn up going after their own happily ever afters. There were a few cheesy parts where I had to do an eye roll but again, thats probably expected in paranormal romances. I was bothered once when Caitlyn acted surprised about one of Carlos's abilities when I was sure he had just told her about it on an airplane ride a couple chapters before. Maybe I read this wrong but it confused me for a second. Sparks is good enough at mixing things up to ensure I will be around as a reader for a long time to come.
Review by MDobson84
16/06/2015
When I was given the opportunity to review Eat Prey Love I jumped at the chance, for two reasons. First reason, I am a fan of Kerrelyn Sparks, especially her Love at Stakes series, and second because I am always looking for good were-animal novels. I love all were-animals but there seems to be so many werewolves and not much of were bears, lions, tigers, and panthers. Eat Prey Love is Carlos' story and he is a were-panther, so that was just what I was looking for. Just from reading the blurb I knew I would love Carlos, who can not love a man who would risk his life to save young children and then adopt them. Carlos was sweet and caring. Caitlyn I felt bad for a first because her family was so messed up. Her father was a total jerk, she lost her sister because of her father, and her mom was indifferent. I loved how we learned about what happened to Caitlyn's sister Shanna as she did. Caitlyn took everything in stride, and never shut down because of all she was hearing about vampires and shapeshifters, she was a strong women. I enjoyed Carlos' search for more were-panthers, especially since Caitlyn went behind his back to be able to go with him. They both loved each other, and I loved how their relationship developed throughout Eat Prey Love . Eat Prey Love is hilarious, especially when Caitlyn is learning to fight, stake vampires, and shot a gun. I won't tell you what happened, because that will spoil it but trust me you will get a kick out of it. Eat Prey Love is definitely one for the keeper shelves.
Review by bgknighton
16/06/2015
Just as enjoyable as her others in this series. Can see some problems coming down the line with the panther children, especially Teresa. And the continuing problem of Sean Whelan, he will eventually have to be dealt with, especially since he has proved himself to be not a nice person at all. Can't wait for the next book!
Review by honeydew69862004
16/06/2015
Eat Prey Love has Carlos falling in love with a mortal named Catelyn. In order to save the were panthers Carlos needs to find a were mate or turn one. Catelyn is Shannons sister who tries to warhn her against falling in love with a vampire or a shifter. In my opinion Catelyn was a whiny weak woman and Carlos could of been better written also. Not the best in the series.
Review by addictofromance
16/06/2015
Caitlyn Whelan, is the daughter of the head of the CIA agency bent on destroying the undead and has kept her from her sister, Shanna. Caityln, decides to accept the invite to her nephews birthday( a nephew she just found out existed) and seeing her sister for the first time since their childhood. The reunion with her sister was bittersweet, but during this party, she meets Carlos Panterra who draws her unlike any other, and starts to realize that this is the man for her. Caitlyn knows that it won't be easy, having Carlos but knows he is well worth the effort. Carlos, a shapeshifter, a were panther, is determined to save his kind, and knows he must mate with a were panther, but must go about to finding one, and despite the magnetism between himself and Caitlyn he knows he must not partake of the forbidden fruit, and do what is best for his kind. Because even though there is one way for her to become like him, more than likely the turning would kill her, and he wouldn't want to harm a hair on her head. But his feelings for Caityln have only increased, and wonders if he could bear to let her go?Eat Prey Love is the most recent release of the Love At Stake Series, and I have just loved Carlos and was captivated by this passionate story of where two people that love each other but circumstances prevent them from being together. Carlos, must separate himself from her even though it seems like she is thrown at him at every turn he makes to avoid her. But sometimes destiny gets in the way of best laid plans, and knows he must keep her safe at all costs, even from his and his animal instincts. Eat Prey Love is a powerful and passionate story about two people that are each other's destiny, but its all about their discovery of a love that will fortify them when danger comes headlong at them. I just loved Eat Prey Love, and from the first page, I was drawn into this compelling story!!! A DELIGHTFUL READ!!!
Also in the Love at Stake series | View all