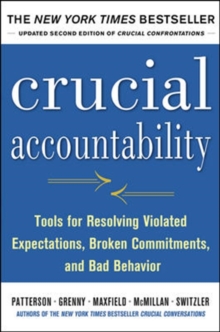 Crucial Accountability: Tools for Resolving Violated Expectations, Broken Commitments, and Bad Behavior, Second Edition
Paperback
Description
Hold anyone accountable. Master performance discussions. Get RESULTS. Broken promises, missed deadlines, poor behavior--they don't just make others' lives miserable; they can sap up to 50 percent of organizational performance and account for the vast majority of divorces.
Crucial Accountability offers the tools for improving relationships in the workplace and in life and for resolving all these problems--permanently. PRAISE FOR CRUCIAL ACCOUNTABILITY:"Revolutionary ideas ... opportunities for breakthrough ..." -- Stephen R. Covey, author of The 7 Habits of Highly Effective People"Unleash the true potential of a relationship or organization and move it to the next level." -- Ken Blanchard, coauthor of The One Minute Manager"The most recommended and most effective resource in my library." -- Stacey Allerton Firth, Vice President, Human Resources, Ford of Canada"Brilliant strategies for those difficult discussions at home and in the workplace." -- Soledad O'Brien, CNN news anchor and producer"This book is the real deal....
Read it, underline it, learn from it. It's a gem." -- Mike Murray, VP Human Resources and Administration (retired), Microsoft
Other Formats
EPUB from £21.42
Hardback from £18.05
Free Home Delivery
on all orders
Pick up orders
from local bookshops
Reviews
Showing 1 - 1 of 1 reviews.
Review by jpporter
16/06/2015
The authors of this book present a multi-stage approach to dealing with people who have failed to take responsibility for themselves - that is, people who lack accountability. The authors suggest how to identify the real issue behind a person'a lack of accountability, how to speak with that person, how to actually address the real issue, and how to maximize the chances that the person will improve in being accountable.The issue of motivating people to be accountable for their actions (or their inaction) is important, given the fact that people today seem more and more inclined to try to minimize the extent to which they are responsible for what happens around them. This includes personal relationships, work-place activity, and familial activity.For myself, the only problem I have with the book is its organization - it is a bit on the pedantic side, starting squarely with step one, moving ultra-methodically through the various steps. The result is something that becomes a bit more boring than it need be. This could be a lively subject, and something from which everyone could gain some insight - making it boring will only limit its effectiveness.This is a much needed book, but it needs to be restructured a little bit.