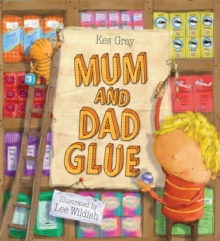 Mum and Dad Glue
Paperback
Description
A little boy tries to find a pot of parent glue to stick his mum and dad back together.
His parents have come undone and he wants to mend their marriage, stick their smiles back on and make them better.
This rhyming story is brilliantly told with a powerful message that even though his parents may be broken, their love for him is not. 'An incredibly powerful book about a boy coming to terms with his parents' divorce.' - Kate Skipper, Waterstone's Buyer Kes was voted by the Independent as one of the TOP TEN children's authors and he is the author of the award-winning Eat Your Peas and winner of the Red House Children's Book Award.
Find out more about Kes at http://www.kesgray.com/ and https://twitter.com/kesgray Illustrated by the winner of the Red House Children's Book Award 2013.
Follow Lee Wildish on https://twitter.com/leewildish
Information
Format: Paperback
Pages: 32 pages, 4-colour
Publisher: Hachette Children's Group
Publication Date: 01/10/2010
Category: Picture storybooks
ISBN: 9780340957110
Free Home Delivery
on all orders
Pick up orders
from local bookshops
Reviews
Showing 1 - 3 of 3 reviews.
Review by edefra1
16/06/2015
Mum and Dad Glue has definitely become one of my favorite picture books so far. This book was extremely touching and can help any child going through a family divorce. Furthermore, it helps kids realize that everything happens for a reason and their love for you will never change. I really liked the illustrations and the fluency of the writing. The book rhymed throughout which helped with the flow of the text. It was an easy way to grasp the content on each page. On the other hand, the illustrations were very powerful in this book. Throughout the story, objects had a crooked line down the center splitting the item. For example, the glue shop had a crack down the middle and so did the trees, lights, and cars. These pictures showed how the little boy was feeling...that everything is broken. Overall I feel all ages could read and receive the same powerful message.
Review by mspisa1
16/06/2015
I liked this book. First, the use of the ABCB rhyme scheme, which could be seen in uses such as "I need a pot of parent glue… to stick them back together…I need to patch their marriage up… I need to make them better" made it very easy to read through and made the book sound like a song. By sounding like a song, I found that it lightened the mood of the more somber topic of separating parents. Another reason I liked this book is for its use of illustrations. During the majority of the book, all the buildings and items the main character interacted with were cracked down the middle; yet at the end, after the main character learned the lesson the book sought to teach, all the buildings and items that were once cracked were whole again. Although simple in concept, these illustrations provided a visual aid for the idea that parental separation does not mean your entire world is being separated, although it may feel like it. Overall, there are two big ideas running through this book. First, although parental separation can make you feel as if your life and everything in it is separating, your life is not separating in those types of ways. The second main idea is that parental separation is not necessarily your fault, nor it is your job to try and mend the separation.
Review by lmalak1
16/06/2015
 I really enjoyed this picture book. One of the reasons I liked this book was because illustrations. I thought that the way that each piece of his life was compared in picture was really awesome. The way his bedrooms were compared and the way his time spent with each parent was compared really says a lot about how he is being parented at each home. From what I saw, neither parenting style was necessarily wrong. Both parents were illustrated to show love and compassion in their own way. I think that these pictures show a lot about how different homes can be okay.A second reason I liked this book was because of the point of view. I liked how the story was put in the first person because it gives an insight into how the child is feeling. For younger readers, this allows them to really see themselves in the story. They can more easily relate to the situation, and this can help them to cope. This is also very helpful for adult readers who may not have been put in this situation because it brings the situation down to a level of understanding that is easy for everyone.The big idea that I picked up on in this story is that divorce has plenty of silver linings for the children to cling onto. These can be used to help the kids work through this type of situation should it arise.