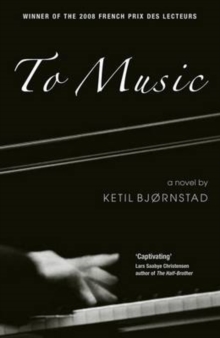 Description
"What am I going to do?' I groan to myself. I have only a few moments left before she slips into the waterfall.
A Brahms symphony blasts through my head, and with it the sound of the river, of the wind, of the tram that rolls right above us, obliterating all else.
Then I lift my hand. I wave to my mother. And still I'm not certain if it really happened. But I think I remember it. I see it as though it were yesterday: She lifts her left hand.
She waves back. Yes. That is the final image I have of my mother alive, before she slips into the waterfall, before her head is smashed against the sharp rocks, before the mortuary, and all the awfulness.
She waves to me. Dying. She waves to me, to Aksel Vinding, because I am her son, and because it was only ever me and her'.
At a family picnic, 16-year-old Aksel's wild, beautiful mother is drowned on a drunken swim.
His family sinks into isolation and bereavement, but gradually the talented young pianist determines to dedicate his life to his mother's memory by playing the music she loved. "To Music" is about the betrayal of young people by the adults who have them in their charge. But it is also about the inner resources of these young musicians, the intensity of the passion between them, and their bold attempts to reach out and help one another and themselves.
The novel leaves us with complex questions about the creative process itself, and ultimately asks whether it is possible to produce our most exquisite art forms without personal suffering.
Information
Format: Paperback
Pages: 304 pages, ill
Publisher: Arcadia Books
Publication Date: 01/10/2009
ISBN: 9781904559351
Free Home Delivery
on all orders
Pick up orders
from local bookshops