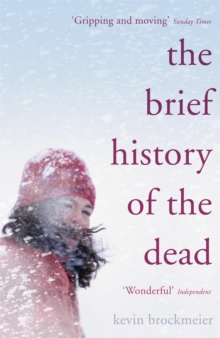 The Brief History of the Dead
Paperback
Description
'Remember me when I'm gone' just took on a whole new meaning ...Laura Byrd is in trouble.
Three weeks ago she and her friends found themselves alone in one of the coldest, most remote places on earth.
Her friends set out in search of help, and now Laura realises that they are not coming back.
So she gathers her remaining supplies and sets out on an extraordinary journey.
Meanwhile in another city, more and more people arrive every day.
Each has a different story to tell, but their accounts have one thing in common - it was their final journey.
For this is the city of the dead. And the link between this city and Laura's journey lies at the heart of this remarkable novel.
The Brief History of the Dead tells a magical story about our lives - about our place in the world, our connections with each other, and what happens to us all after our deaths.
It is a story of spellbinding power and imagination, which resonates long after the final page.
Information
Format: Paperback
Pages: 272 pages
Publisher: Hodder & Stoughton General Division
Publication Date: 25/01/2007
ISBN: 9780719568305
Free Home Delivery
on all orders
Pick up orders
from local bookshops
Reviews
Showing 1 - 5 of 9 reviews.
Previous | Next
Review by MikeFarquhar
16/06/2015
Read the brief history of the dead by Kevin Brockheimer today, and enjoyed it a lot (I read it while huddled up at the back of a freezing cold bus as a blizzard swooped around and about, and I think that helped too!)Laura Byrd is a naturalist, who works for Coca-Cola. As part of their latest advertising gimmick idea, she has been sent as part of a three-person expedition to the Antarctic to look at the feasibility of using melting Antarctic glacial water to make Coke...'the freshest water on the planet'. Things go wrong, and Laura's companions set out for help. When they don't return, with herself completely cut off from the world, she has to decide whether to struggle across the glaciers to find help, or just give up.At the same time, in an unnamed city, the dead arrive. This is where the dead come after they cross into death, an ordinary city, where they live (mainly) ordinary lives, until eventually they vanish once more, to go no-one knows where. The rumour is that as long as someone in the real world still remembers you, then you remain in the city; but as soon as the last person to remember you dies in turn, then you pass onwards. In the real world, a viral plague is raging across the planet, and the numbers of the dead are rising...and then suddenly falling.Brockheimer's novel started off as a short story (the revised version of which is now the first chapter of the book) which described the process of crossing into the city of the dead. While the city itself is fairly mundane, the manner of each person's crossing is fantastic and unique, and Brockheimer quickly uses it to sketch his city and some of its inhabitants. Chapters then alternate between those set in the city, and those describing Laura's struggle across the Antarctic, as the two - inevitably - collide and feed into each other. Brockheimer's approach is almost one step removed, as he describes the lives, past and present, of the city's inhabitants, and how memories and identities play into each other, about the meanings of lives lived and how death changes that, and how more interconnected than we realise we often are; but at the same time, there are some beautiful small and personal moments (Laura's parents realising how they fell out of love and falling back in again is very well, and quite subtly, done for example). It's well-written, and reminded me a lot of Calvino - in a lot fo ways, it's a story about the nature of stories, bound in with identity and memory. Another good one for this year so far.
Review by michelle_bcf
16/06/2015
Although I hadn't heard of it, there are alot of reviews out there for this book. My advice.. don't read them!This is all you need to know before picking up this book...There is a place we go to after death.. and whether it comes before Heaven, no one knows. The theory is that each inhabitant stays there until there is no one alive who has a memory of them.It is also the story of Laura, trapped in the Antartic, and fighting for her life.The reviews will tell you more of the storyline, but in my opinion, that is best discovered as you read.. the book needs to open up for you as you journey through.Some reviewers seem to have been disappointed because they were expecting more.. be it a more tense storyline, more science fiction, more background to the characters.In my opinion, it doesn't need any of that. Don't approach it with any expectation, just sit down and read. Be warned though, you won't want to put it down.
Review by phoebesmum
16/06/2015
What in the world possessed me to buy this book? I think it was claimed to be 'uplifting', or something. The premise: when you're dead, you live on, in an in-between city not unlike the everyday world, until the last person who remembers you has also died, and then you move to the next level. But the world population has been wiped out by bio-terrorists, and the only people left in the city are those remembered by the one woman left alive, who is in Antarctica, slowly dying of exposure. A barrel of laffs, I must say.
Review by indygo88
16/06/2015
Throughout this novel I kept finding myself trying to figure out how it was all going to come full circle and how things were going to wrap up. Interesting premise: after dying, people remain in the limbo-type afterlife as long as someone still on earth remembers them; meanwhile, the population on earth is gradually wiped out by pandemic until one lonely person remains. For the most part this book just depressed me & I was waiting for a climactic ending of some sort. But instead, I was left with a "WTF?!" ending. Lots of reviewers have thought it fully appropriate. I was just disappointed.
Review by john257hopper
16/06/2015
This has a lovely idea at its heart, that of a city inhabited by those who have died, but who are remembered by the living. However the development of the story and the links to Laura Byrd's Antarctic travails were rather unclear and I found the ending rather opaque. A haunting story, though.