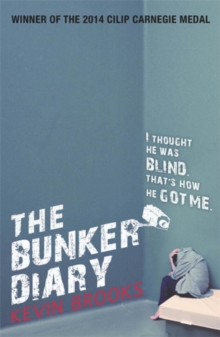 The Bunker Diary
Paperback
Description
WINNER OF THE 2014 CILIP CARNEGIE MEDAL.Room meets Lord of the Flies, The Bunker Diary is award-winning, young adult writer Kevin Brooks's pulse-pounding exploration of what happens when your worst nightmare comes true - and how will you survive?I can't believe I fell for it.
It was still dark when I woke up this morning. As soon as my eyes opened I knew where I was. A low-ceilinged rectangular building made entirely of whitewashed concrete.There are six little rooms along the main corridor.There are no windows.
No doors. The lift is the only way in or out.What's he going to do to me?What am I going to do?
If I'm right, the lift will come down in five minutes.
It did. Only this time it wasn't empty . . .Praise for The Bunker Diary:[Kevin Brooks'] pacey plots . . . have made him a cult among teens. This, though, is the big one. It should be read by everyone. - Amanda Craig, The Times Kevin Brooks has won the Branford Boase Award and been shortlisted for the Guardian Children's Fiction Award, the Booktrust Teenage Prize, the Manchester Book Award and for the Carnegie Medal (for Martyn Pig, Road of the Dead and Black Rabbit Summer).
Kevin Brooks was born in Exeter and studied in Birmingham and London.
He had a varied working life, with jobs in a crematorium, a zoo, a garage and a post office, before - happily - giving it all up to write books.
Kevin is the author of Being, Black Rabbit Summer, Killing God (published as Dawn in the USA), iBoy and Naked for Penguin.
He now lives in North Yorkshire.****If you enjoyed The Bunker Diary and want to get inside more of your favourite books, then check out spinebreakers.co.uk for exclusive author interviews, competitions and much more.****
Information
Format: Paperback
Pages: 272 pages
Publisher: Penguin Books Ltd
Publication Date: 07/03/2013
Category: General
ISBN: 9780141326122
Free Home Delivery
on all orders
Pick up orders
from local bookshops
Reviews
Showing 1 - 2 of 2 reviews.
Review by KatherineB729
27/08/2015
A very good book. The writing was excellent, the characters were great and I was gripped right from the start. I found that I couldn't stop reading, just so that I could find out what happens... Overall, an amazing book!
Review by ecataldi
27/08/2015
This is one of those books that will haunt you and make you ponder how you would have acted in the characters places. It's like "Lord of the Flies" except possibly worse. It's unfathomably dark and will keep teens (and adults on the edge of their seats. Sixteen year old Linus wakes up alone, cold, and hungry in an abandoned bunker. There's an empty kitchen, dining room, bathroom, six bedrooms, and an elevator. How will he survive? Can he escape? Will he go mad? As the days turn into weeks, more people find themselves drugged and awakening in the nightmarish bunker. There's a nine year old girl, a junkie, a young career woman, a business man, and an old gay man. Can they work together or will the bunker slowly drive them all insane? What is the point, why are they there? This is one of those books that I literally yelled out a bunch of expletives when I got to the end. It's maddening. A great read, impossible to put down, that will make readers really think.