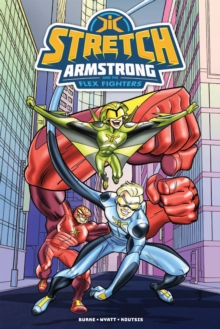 Stretch Armstrong And The Flex Fighters
Paperback / softback
Description
From the writers of the new Netflix animated series!
Jake Armstrong and hisfriends, Omni-Mass and Wingspan, struggle to balance crimefighting with highschool in this reimagining of the story behind one of the most popular toys ofall time!Charter City was rundown and crime ridden, until the arrival ofRook Unlimited, the leading technology company in the world.
The company'sbiggest achievement is the development of Flexarium, a compound that can stretchto incredible lengths and become lighter than air or dense as lead.
One nighthigh school friends Jake Armstrong, Ricardo Perez, and Nathan Park go to hangout at the warehouse where Flexarium is stored, causing an accident that leadsto the chemical compound bonding with their bodies, giving them superpowers.
Thetrio is enlisted by Rook Unlimited to fight crime in Charter City as StretchArmstrong and the Flex Fighters!Stretch Armstrong challenges fans tostretch beyond their limits!
Jake, a.k.a. Stretch Armstrong, is a kid justcoming into his own while still dealing with both the responsibility of his newpowers and the loss of his mother.
The series tackles all of this with acombination of humor, action, and fun that kids are drawn to.
With their amazingpowers and boundless enthusiasm and positivity, Stretch and his super-poweredfriends take the ordinary and make it extraordinary. Based on the newNetflix animated series, Stretch Armstrong and the Flex Fighters features fun,action-oriented, and character-centered stories that will introduceStretch's world to readers unfamiliar with the show, as well as offeradditional depth for fans who have already seen the firstseason.
Free Home Delivery
on all orders
Pick up orders
from local bookshops
Also by Kevin Burke