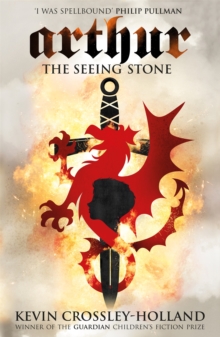 The Seeing Stone : Book 1
Paperback
Part of the Arthur series
Description
Medieval life meets Arthurian magic in a novel that transcends boundaries of time and age, appealing to children of 9+ and older readers alike.
The winner of the Guardian Children's Fiction Prize and the Smarties Prize bronze award in 2001, this timeless novel is stunningly reissued for a new generation.
The year is 1199, the place the Welsh Marches. Young Arthur de Caldicot is given a magical shining stone in which his legendary namesake is revealed. In 100 short chapters that brilliantly evoke life in a medieval manor, stories of the boy King Arthur begin to echo - and anticipate - the secrets and mysteries that emerge in his own life ..."As bright and as vivid as the pictures in a Book of Hours.
Deep scholarship, high imagination, and great gifts of storytelling have gone into this; I was spellbound." - Philip Pullman, The Guardian
Information
Format: Paperback
Pages: 352 pages, 2 maps
Publisher: Hachette Children's Group
Publication Date: 01/06/2001
Category: Fantasy
ISBN: 9780752844299
Free Home Delivery
on all orders
Pick up orders
from local bookshops
Reviews
Showing 1 - 5 of 5 reviews.
Review by roxy
16/06/2015
: Once again, the myth of King Arthur is taken and made into fiction. While I found it at first difficult to truly get in the story, after a few pages, this first narration fiction really caught me. It's a sweet children's story and is not pretending to be anything more. It was entertaining and if you're a sucker for Arthurian legends like I am, you'll definitely enjoy it. I will certainly read the two following books of this series if I come across them.
Review by mahallett
16/06/2015
the story itself, of a boy in 1199 is very interesting but where are we going with the king arthur story?
Review by turtlesleap
16/06/2015
This is the first in a trilogy about Arthur, a young man who lives in the Marches bordering England and Wales in the late 12th Century. In a magic stone given to him by a man called Merlin, Arthur catches glimpses of the world occupied by his predecessor, the Arthur of legend. The story is woven into the day to day life of the young man and we follow his growth as he learns lessons from both his life and King Arthur's life. The most delightful parts of this book occur when Corssley-Holland allows himself to freely play with words; he is a delightful wordsmith and these little excursions into wordplay add a great deal to the charm of the book.
Review by shanaqui
16/06/2015
I stalled partway through reading this, at first, because I really couldn't see where it was going and how the threads of story were going to get pulled together. I still can't quite see that, now I've finished it, but I'm now at the point of very much wanting to find out where Kevin Crossley-Holland is going with this.<br/><br/>It's very easy to read, with short chapters and a way of painting the world of the narrative vividly without dwelling too much on details. The cold and dirt and discomfort are there and felt by the reader, without being made to sound extraordinary to the narrator (for whom, of course, it would be normal). It's well researched and carefully put together. The narrator is believably a twelve year old boy, too: his voice is handled just right.<br/><br/>I'm not sure how quickly I'll get round to reading the rest of the trilogy, but I definitely plan to.
Review by charlottejones952
16/06/2015
'The Seeing Stone' is a children's novel, and as such, has extremely short chapters, sometimes only 1 page long in places. The way it is written is from Arthur's point of view, and the broken up chapters, that sometimes don't seem to link together, feel almost like diary entries. Although this book is set in 1199, the language used isn't old fashioned but there are objects that they use that aren't really around today. In my copy of the book, there is a definitions page though so this helps a lot, and also there is a character list, with who each character is detailed clearly. The writing style annoyed me slightly in that there were a lot of exclamation points that weren't always necessary, and it made the language sound quite immature.<br/><br/>Reading this I had a few problems in that the characters don't seem to sound their ages. For instance, because Arthur is only thirteen and he is the narrator, it feels almost as if all of the other characters are also his age, which isn't the case.<br/><br/>I really liked the fast-paced nature of this book, helped by the short chapters and the medieval style illustrations that were in my copy really helped set the scene for the story. The inclusion of Welsh words was really well done and I think this is possibly one of the reasons I used to like these books so much, as when I was originally reading this about ten years ago, I was learning Welsh.<br/><br/>After about halfway, I found that I was losing interest in this book. The way it is written is obvious that it is a series and not a standalone book because things happen very slowly and the alternating narrative got a little distracting, to the point where I much preferred one point of view over the other. Some of the mysteries became very predictable and I was forcing myself to keep reading.<br/><br/>Another thing that annoyed me with this book was the dominance of religion in the story. I understand that in 1199 this would have been how people were, and I have nothing against religion,though I am not religious myself, but I found that sometimes it took over from the storyline and some of the other themes weren't explored to their full potential.<br/><br/>Near the end, the story seemed to pick up and although the events were quite predictable, it was actually enjoyable by the end. I think this would be great for younger readers but it didn't really draw me in enough so I won't be rereading the rest of the series.
Also by Kevin Crossley-Holland | View all