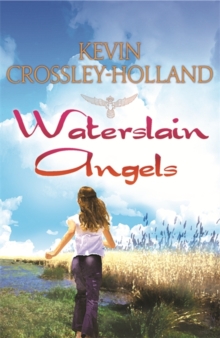 Waterslain Angels
Paperback
Description
In the village of Waterslain in Norfolk, in the 1950s, a fragment from a carved angel's wing is discovered.
Maybe the wooden angels that once supported the church roof were not, after all, destroyed centuries ago, but spirited away to safety.
Two children decide to find them. There are few clues, but a strange inscription on the church wall leads them into terrifying places - up to the top of the church tower, down a tunnel where they are nearly drowned.
Annie dreams of the man who was sent in by Cromwell to smash up the church, and of angels flying and falling.
For Sandy, whose father, an American airman, was recently killed, the angels bring comfort.
The whereabouts of the angels become clear to them - but then they discover that other people are hunting for them, and are determined to stop the children at all costs.
The friendship between the boy adjusting to a new life in his mother's village, and the girl whose family have always lived on their remote farm, the haunting atmosphere of the Norfolk saltmarshes, and the strong sense of the past still present, give richness to a tense and fast-paced story of detection for younger readers.
Information
Format: Paperback
Pages: 208 pages
Publisher: Hachette Children's Group
Publication Date: 02/07/2009
Category: General
ISBN: 9781444000245
Free Home Delivery
on all orders
Pick up orders
from local bookshops
Reviews
Showing 1 - 1 of 1 reviews.
Review by DeltaQueen50
16/06/2015
Waterslain Angels is a YA book about two children who decide to find the fourteen hand-carved angels that were taken from the village church and hidden during reformation days, gradually over time their hiding place was forgotten. Unfortunately, as much as I wanted to like this book, I just couldn't warm up to it. Supposedly a straight forward mystery, but actually the children stumbled around clueless, mostly going by messages that came to them in dreams. To put suspense into the story, they were not the only ones looking for the angels, a church handyman was also eager to find them and make a profit from these priceless antiques. Even looking at this book as children's fiction did not make me inclined to give it a higher rating. I found the writing very choppy and abrupt and the plot was executed in a strange and unbelievable fashion. The ending came quickly, when all of a sudden one of the children showed a flash of genius and determined where the angels were hidden. I did find the marshy setting of Norfolk interesting and I wished there was more information about that in the story. All in all, I just wasn't very impressed with Waterslain Angels.
Also by Kevin Crossley-Holland | View all