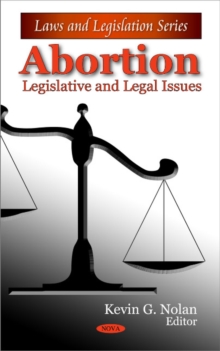 Abortion : Legislative & Legal Issues
Hardback
Description
In Roe v. Wade, the U.S. Supreme Court determined that the Constitution protects a woman's decision whether or not to terminate her pregnancy.
In a companion case, Doe v. Bolton, the Court held further that a state may not unduly burden a woman's fundamental right to abortion by prohibiting or substantially limiting access to the means of effectuating her decision.
Instead of settling the issue, the Court's decisions kindled heated debate and precipitated a variety of governmental actions at the national, state and local levels designed either to nullify the rulings or hinder their effectuation.
These governmental regulations have, in turn, spawned further litigation in which resulting judicial refinements in the law have been no more successful in dampening the controversy.
This book offers an overview of the development of abortion law from 1973 to the present.
Beginning with a brief discussion of the historical background, the book analyses the leading Supreme Court decisions over the past 34 years, emphasising particularly the landmark decisions of Roe v.
Wade and others. This book consists of public documents which have been located, gathered, combined, reformatted, and enhanced with a subject index, selectively edited and bound to provide easy access.
Free Home Delivery
on all orders
Pick up orders
from local bookshops