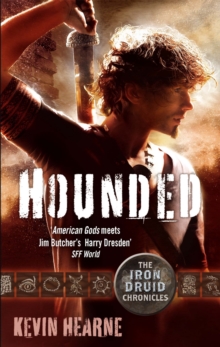 Hounded : The Iron Druid Chronicles
Paperback
Description
Atticus O'Sullivan, last of the Druids, lives peacefully in Arizona, running an occult bookshop and shape-shifting in his spare time to hunt with his Irish wolfhound.
His neighbors and customers think that this handsome, tattooed Irish dude is about twenty-one years old - when in actuality, he's twenty-one centuries old.
Not to mention: He draws his power from the earth, possesses a sharp wit, and wields an even sharper magical sword known as Fragarach, the Answerer.Unfortunately, a very angry Celtic god wants that sword, and he's hounded Atticus for centuries.
Now the determined deity has tracked him down, and Atticus will need all his power - plus the help of a seductive goddess of death, his vampire and werewolf team of attorneys, a sexy bartender possessed by a Hindu witch, and some good old-fashioned luck of the Irish - to kick some Celtic arse and deliver himself from evil.
Information
Format: Paperback
Pages: 320 pages
Publisher: Little, Brown Book Group
Publication Date: 01/09/2011
Category: Fantasy
ISBN: 9780356501192
Free Home Delivery
on all orders
Pick up orders
from local bookshops
Reviews
Showing 1 - 4 of 4 reviews.
Review by iftyzaidi
16/06/2015
'Dresden Files meets American Gods'? Well how could I resist this first instalment of Kevin Hearne's 'Iron Druid Chronicles'? As it turns out that's a pretty good description, though it is fluffier and more action-oriented than either. All in all Hounded suggest I have a fun new series to tide me over till I can finally get my hands on more Dresden Files. Hopefully over the coming instalments in the series, it will acquire more depth and a interesting cast of supporting characters.
Review by reading_fox
16/06/2015
Enjoyable enough take on the modern urban fantasy genre. It's based on the old concept that both pTerry and Douglas adams have explored (i think DNA was first, but I'm not sure) - gods remain active as long as there is someone believes in them. And where the gods exists other powers can still survive.Here we have our hero currently trading by the (by deliberate choice, non-christain) name of Atticus. He's an ancient Irish Druid, who managed to learn enough herblore to avoid dying of old age, and is still alive by dint of suitable paranoia, experience and the ability to run away. He's also mastered the ability to bind iron to his magic making him almost immune to most of the fairy world that cause him the biggest problems. However events from his past are starting to catch up with him. A long time ago, he stole a potent magical sword from one of the irish gods - enabled to do so through the interaction of other of the gods much like the greek tragedies. By keeping suitably annonymous he has managed to avoid the revenge he is due. But in the last few decades he's settled down ina small american town, quietly running his own bookstore and cafe. He's also online of course, which enables some of the gods more up-to-date followers to catch up with him. A few double crosses later, with help from a few friends and allies of convenience we're all set for the big semi-magical showdown.Good fun, fast paced - enough to skim through any niggling plot holes. A good blending of power and reasonable constrained magic. All the characters have an understandable motivation, and no-one apperas to be eveil just because they are (always a pet hate). I certainly will read the sequels but I suspect the series is set up for a long run and this will only be sustainable if there is a long running backstory (cf dresden again). If it is just more adventures in the life of Atticus, then it might get old too fast.
Review by libgirl69
16/06/2015
Definitely not written by a woman, as these types of books often are. Also, something lacking as I have now put it aside for a week and not been drawn back to it at all.
Review by Cynical_Ames
16/06/2015
I jinxed myself. I read the first 5 pages and thought I might actually like it after procrastinating over the decision of: to read, or not to read? I blame myself for settling on the former, as many have compared it to Jim Butcher's writing. Me and that dude do not get on. We are chalk and cheese. <br/><br/>The humour is unfunny; it's forced. The info-dump is off-putting; too much, too fast. Dialogue-overload. Not enough description.<br/><br/>Atticus claims to be 2,100 or just 21 to humans. He lies to everyone but the humans. He ain't two thousand years old. There's no way. He brags about the famous historical events he's witnessed, the powerful and dangerous gods he knows, and thinks his physical prowess is that of a ninja. He sounds like an immature boy. <i>Show</i> me you've lived longer than most, don't just tell me. He also feels too modern and "down with the kids". <br/><br/>These gods care enough to warn Atticus of an impending threat on his life but he doesn't take them seriously. Even after he is attacked. I don't understand why they care if he never listens to them.<br/><br/>One of said gods has promised not to let Atticus die. So if he's in terrible agony from multiple wounds, he won't die. That's awful. I wouldn't wish that on my worst enemy, and this woman is supposed to be an ally. Some ally. No thanks. <br/><br/>I wasn't impressed with the gods we met in the beginning. Not much intelligence or wisdom to be found in them. They were only concerned with petty grievances and vengeance. The norm for gods generally, though some semblance of substance or the ability to champion a worthwhile cause would've been nice, anything to show some depth of character to engender interest from me as the reader.<br/><br/>I hear Oberon is a hoot and an adorable sidekick. Well, I met him but he doesn't seem terribly dog-like. <br/><br/>I've never given up after so few pages read before, but I can't force myself to read any more. <br/><br/>Not for me.<br/><br/>36/292 pages read.
Also in the Iron Druid Chronicles series | View all