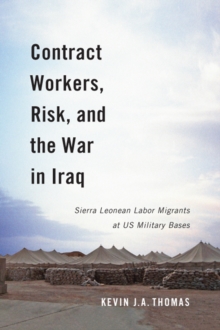 Contract Workers, Risk, and the War in Iraq : Sierra Leonean Labor Migrants at US Military Bases
Hardback
Description
In 2003, just before the start of the US invasion of Iraq, military planners predicted that the mission's success would depend on using diverse sources for their workforce.
While thousands of US troops were needed to secure victory in the field, large numbers of civilian contractors - many from poor countries in Africa and Asia - were recruited to provide a range of services for the occupying forces. In Contract Workers, Risk, and the War in Iraq Kevin Thomas provides a compelling account of the recruitment of Sierra Leonean workers and their reasons for embracing the risks of migration.
In recent years US military bases have outsourced contracts for services to private military corporations who recruit and capitalize on cheaper low-skilled workers.
Thomas argues that for people from post-conflict countries such as Sierra Leone, where there are high levels of poverty and acute unemployment, the opportunity to improve their situation outweighs the risk of migration to war-torn Iraq.
Examining migrants' experiences in their native country, at US bases, and after their return to Sierra Leone, Thomas deftly explores the intricate dynamics of risk, sets up a theoretical framework for future researchers, and offers policy recommendations for decision-makers and practitioners in the field. Incorporating the voices of Sierra Leonean contractors who were manipulated and exploited, Contract Workers, Risk, and the War in Iraq turns the spotlight on a subject that has remained on the periphery of history and reveals an unexpected consequence of the War on Terror.
Other Formats
Paperback / softback from £19.45
Free Home Delivery
on all orders
Pick up orders
from local bookshops
Also by Kevin J. A. Thomas