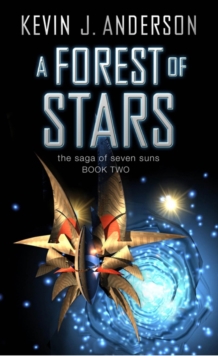 A Forest of Stars : The Saga of Seven Suns - Book Two
Paperback
Description
It has been five years since humanity's heady expansion among the stars came to an abrupt, and violent, halt.
The emergence of the Hydrogues, an immensely powerful alien race dwelling within gas-giant planets, has placed the scattered colonies of the Terran Hanseatic League in jeopardy.
With space travel heavily curtailed, and supplies of fuel dwindling, young King Peter and Chairman Basil Wenceslas, the harsh power behind the throne, have no choice but to impose strict rationing.
But the Hydrogues are not the only enemies of humanity.
The scheming Mage-Imperator, leader of the ancient Ildiran Empire, attempts to forge tangled alliances among all combatants in order to protect his failing civilization.
The mysterious Klikiss robots, only remnants of an extinct race, continue to work their sinister plans while pretending to be friends and advisors to the Hanseatic League. And archaeologists Margaret and Louis Colicos -- whose discovery of an ancient alien weapon accidentally triggered the Hydrogue conflict -- have vanished on the abandoned world of Rheindic Co. Rlinda Kett and Davlin Lotze, sent to investigate the disappearance, soon realise that the Colicos' discoveries may lead to an incredible new way to travel between worlds...or to the awakening of enemies even more fearsome than the Hydrogues.
Something of inestimable power must have been required to destroy the Klikiss race.
Will humanity be next?
Information
Format: Paperback
Pages: 752 pages
Publisher: Simon & Schuster
Publication Date: 07/06/2004
Category: Science fiction
ISBN: 9780743430661
Free Home Delivery
on all orders
Pick up orders
from local bookshops
Reviews
Showing 1 - 1 of 1 reviews.
Review by JeffV
16/06/2015
Much better than the first book, probably because far fewer principle character are killed off. Humanity is at war with a mysterious, powerful race and their full military capacity seems unable to phase them. These aliens, the Hydroges, live inside of gas giant planets, and a war was inadvertently triggered when, in the first book, an ancient technology was tested that turned such planets into small suns. The Hydroges were not amused as cities containing millions were annihilated. With the war going poorly, humanity considers using the ancient technology to blow up other known planets, but are concerned that doing so could trigger a campaign of extermination. Little do they know such a campaign is already under way.There is still some very strange twists and turns. Humans are proving to be late arrivals in what was an ancient war. The World Trees, a sentient tree that can transmit thoughts across vast distances instantaneously with the help of "green priests" are an ancient enemy of these Hydroges, and the real reason humans are being targeted is because they are aligned with and sheltering these trees. Meanwhile, a fiery race dwelling in suns is also made an appearance, joining the war without even a how-do-you-do by an exploding diplomatic emissaries. Then one of the characters from the first book discovers some sentient water that condensed as he was scooping up free hydrogen in a nebula cloud. In spite of the war, political machinations continue abound. The chairman of the Hanseatic League is dissatisfied by the lack of tractability in what was supposed to be his puppet king, Peter (replacement for Frederick, who was blown up by the aforementioned emissary. Political marriages are arranged which could create a string of alliances throughout all of the human groups, but war causalities are wreaking havoc even on the aristocrats. And then there are the robots. Evil, evil robots.
Also in the The Saga of the Seven Suns series | View all