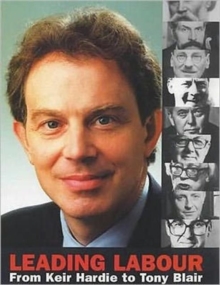 Leading Labour : From Keir Hardie to Tony Blair
Hardback
Description
As the present New Labour government approaches its mid-term, _Leading Labour_ marks the centenary of the British Labour Party in the year 2000.
Kevin Jefferys presents a lively collection of biographical studies of every Labour leader in those first one hundred years, a period during which the Labour Party grew from being a party with two MPs to having the largest parliamentary majority of the twentieth century. _Leading Labour_ is the first single work devoted to the party's leaders, setting their efforts to achieve electoral success against their party's changing attitudes to leadership.
Keith Laybourn demonstrates how during its first two decades the party sought ways to limit the authority of its chairmen.
Chris Wrigley examines Ramsay MacDonald, Labour's first elected 'leader' at a time when Labour became the main opposition party.
Neil Riddell and Andrew Thorpe illustrate how MacDonald's 'betrayal' of the party in 1931 - leading the Tory-dominated National Government - overshadowed the subsequent leadership of Arthur Henderson and George Lansbury.
Clement Attlee's restoration of Labour's electoral and leadership fortunes is explored by Robert Pearce, while Brian Brivati recalls how close Hugh Gaitskell was to ousting Macmillan's government before his unexpected death in 1963.
Tim Bale recounts how Harold Wilson's long tenure and waning popularity coincided with a Liberal revival that eroded the two-party politics of post-war Britain, while James Callaghan's subsequent achievements were, as Kenneth Morgan notes, eclipsed by the Winter of Discontent.
The continuing erosion of the two-party system during Michael Foot's term is outlined by Eric Shaw, with Martin Westlake describing how Neil Kinnock's party reforms began not only to rehabilitate Labour but also to contain the threat from the SDP. Andy McSmith looks at John Smith's period as a Labour leader popular in the country as well as the party, before John Rentoul's analysis of Tony Blair's 1997 success and his prospects for securing a second term of government for the Labour Party.
Information
Format: Hardback
Pages: 256 pages, portraits
Publisher: I.B. Tauris & Co. Ltd.
Publication Date: 30/09/1999
ISBN: 9781860644535
Free Home Delivery
on all orders
Pick up orders
from local bookshops