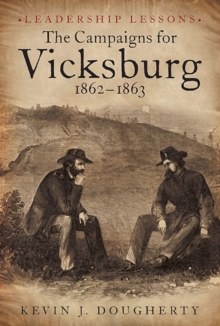 Campaigns for Vicksburg 1862-63 : Case Studies in Challenges, from Adversity to Triumph to Disaster
Hardback
Description
Long relegated to a secondary position behind Gettysburg, Vicksburg has more recently earned consideration by historians as the truly decisive battle of the Civil War and is indeed fascinating on many levels.
A focal point of both western armies, the Federal campaign of manoeuvre that finally isolated the Confederates in the city was masterful.
The Navy's contribution to the Federal victory was significant.
The human drama of Vicksburg's beleaguered civilian population is compelling, and the Confederate cavalry dashes that first denied the Union victory were thrilling.
But perhaps more than any other factor, the key to the Federal victory at Vicksburg was simply better leadership.
It is this aspect of the campaign that Leadership Lessons: The Campaigns for Vicksburg, 1862-1863 seeks to explore. The first section of this book familiarises the reader with the challenges, characteristics, and styles associated with leadership during the Civil War in general.
It also outlines the Vicksburg Campaign by explaining the strategic significance of the Mississippi River and Vicksburg, detailing the opposing forces and the terrain, discussing the failed attempts to capture Vicksburg over the winter of 1862-63, and tracing the brilliant campaign of manoeuvre and logistics that allowed Grant to ultimately lay siege and win a Federal victory.
The second section of the book contains 30"leadership vignettes" that span the actions of the most senior leaders down to those of individual soldiers.
Each vignette focuses the campaign overview to the specific situation in order to provide appropriate context, explains the action in terms of leadership lessons learned, and concludes with a short list of "take-aways" to crystallise the lessons for the reader.
Information
Format: Hardback
Pages: 256 pages, 16-pg photo section
Publisher: Casemate Publishers
Publication Date: 15/03/2011
Category: History of the Americas
ISBN: 9781612000039
Free Home Delivery
on all orders
Pick up orders
from local bookshops