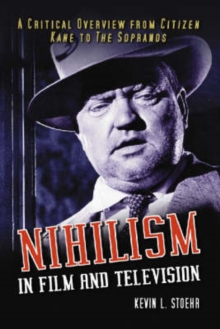 Nihilism in Film and Television : A Critical Overview from ""Citizen Kane"" to the ""Sopranos
Paperback / softback
Description
This book explores the idea of nihilism, as introduced by German philosopher Friedrich Nietzsche, through its appearance in modern popular culture.
The author defines and reflects upon nihilism, then explores its manifestation in film and television characters, stories, and settings.
He surveys these fictional portrayals and makes a distinction between two forms of nihilism: passive life-denial and active self-realization.
Among the subjects examined are the award-winning television series ""The Sopranos"" and the film noir genre that preceded and influenced it.
Films probed include Orson Welles's masterpiece ""Citizen Kane"", the films of Stanley Kubrick, Neil Jordan's controversial ""The Crying Game"" and Richard Linklater's unconventional ""Waking Life"".
Finally, the author considers nihilism in terms of the decay of traditional values in the genre of westerns, mostly through works of filmmaker John Ford.
In the concluding chapter, the author broadens the lessons gleaned from these studies, maintaining that the question of the possible meaninglessness of life must be recognized and appreciated before people can overcome its life-negating effects.
Information
Format: Paperback / softback
Pages: 226 pages, 32 photographs
Publisher: McFarland & Co Inc
Publication Date: 15/09/2006
Category: Films, cinema
ISBN: 9780786425471
Also by Kevin L. Stoehr