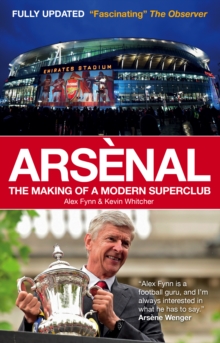 Arsenal : The Making of a Modern Superclub
Paperback
Description
Fully updated and expanded reprint of this bestselling, seminal book on Arsenal and Arsene Wenger, with four new chapters to bring it up to date at the start of the 2016/17 season.
Described by The Observer as "fascinating" and The Guardian as "shrewd and well-informed", respected football magazine When Saturday Comes said of Arsenal: The Making of a Modern Superclub, "at last a football book that reflects the age". Based on unprecedented access granted to the authors, including exclusive interviews with Arsene Wenger and key Board members, current and former players, Arsenal looks in detail at the club's transformation into a global superpower under the stewardship of their French manager right up to the end of the 2010/11 season.
Information
Format: Paperback
Pages: 352 pages
Publisher: Vision Sports Publishing Ltd
Publication Date: 01/09/2011
Category: Sports teams & clubs
ISBN: 9781907637315
Free Home Delivery
on all orders
Pick up orders
from local bookshops
Reviews
Showing 1 - 1 of 1 reviews.
Review by jeff.maynes
16/06/2015
This is a frustrating book, which does some things well, and other things poorly. It is blurbed as the building of a "modern superclub" and a great insight into the mind of Arsenal manager Arsene Wenger. It is not at all the latter. Wenger is notoriously closed with the press, and Fynn gives us little insight beyond his usual soundbites. On the former, it does an able job of detailing the financial movements behind the scenes of the club.These sections are the book's greatest strengths. The authors show a clear understanding of both the politics of the boardroom struggles and machinations (particularly the ouster of David Dein and the changing attitudes towards Stan Kroenke). I have not always followed this news closely, and I found this to be a clear and well-presented summary. For the reader interested in the financial and boardroom of history of Arsenal from the decision to build a new stadium through to the end of the 2010-2011 campaign, this book is worth a brief read. The one unfortunate omission here is that there is no indication that the authors talked to either Stan Kroenke or Alisher Usmanov, and offer us no insight into their motives, interests or methods beyond their soundbites.That said, the analysis of the football side is trite and ultimately a failure. Fynn and Whitcher fall into the standard traps of sports journalism, and offer some very superficial analyses at times. For example, there has long been a trope about Arsenal that they are mentally soft and unable to deal with losing. This is typically justified by appeal to a <i>post hoc</i> fallacy, namely that they put up poor records after losses. This book would be a great opportunity for the authors to really investigate the mental softness explanation of this fact. Do the players say something similar? If we compare their record after losses to other teams, is it really worse? What does the manager think? Instead, they simply treat some anecdotes about losing after losses as evidence for the mental softness claim. This sort of poor, superficial, analysis is what we expect to see in the sports pages every day, and it is disappointing that the authors did not investigate it further in the book.There are other instances of this. In the prior chapter, they speculate about the effects of Wenger's policy of buying foreign players, wondering if it degrades loyalty at the club. That is, foreign born players are bound to be less loyal (bought as they are, and not raised in the system), and seeing the failure of English players makes the young Englishmen less confident that they have a future at Arsenal. Maybe, I guess. The trouble is that the authors do not provide even the slightest hint of evidence for it. They put in some weasel words ('there is an argument that..." and "it remains to be seen...") to avoid addressing the issue in a meaningful way, but this significantly weakens the text. Anyone who has read the news on Arsenal (which, as I noted above, is the target audience) has heard these points before. What we want is a novel and meaningful analysis of these claims.The new chapters, reflecting up through 2011, merely add more superficial gloss about events on the pitch. Reading Fynn and Whitcher is no different from reading every pundit and writer on Arsenal today. It may be that these claims are right (mental softness on the part of Arsenal, Arsene's insistence on youth even when he has other options, too many pampered players, etc.). The authors certainly quote enough people (mostly Tony Adams) who agree with them. Yet, they've missed an opportunity to actually get inside Arsene's head. If the conventional view is right, then Arsene is making an obvious and egregious set of errors, despite his brilliant record in previous seasons. What does he think about his recent teams? Wenger famously relies heavily on advanced statistical analysis - is this work giving him a different opinion of his team and players than the rest of us? I'd much rather read Fynn and Whitcher take on these questions, but instead they just make the same tired and oft-repeated claims you find in any source.The reasoning is also opaque in some locations. When discussing Arsenal's deal with Emirates Airline for naming rights for the stadium and the team uniform, Fynn and Whitcher raise two principle lines of criticism. First, it violates tradition and upsets team supporters. Second, the income is far lower than other teams received. Yet, at one point, they conclude that the deal restricts "the commercial potential of their brand." This is a key claim, since it is part of how they distinguish the situation with Arsenal from that of American sports teams (who commonly have stadiums named after sponsors). Yet, it is totally unclear why this follows. Perhaps fans would stay away, or be less engaged, because of the stadium name, but no evidence is provided. What's more, evidence is provided <i>against</i> this claim, as the authors note that the audience is a captive and loyal one. If that's right, then does the name change really weaken the brand? If it would weaken it overseas or with new fans, why should we expect this and how does this situation differ from that of other EPL clubs? It reads as if Fynn and Whitcher ran together several lines of argument (a tradition based one and an economic one) and confused which conclusions followed from what they actually provided evidence for.I had heard good things about this book from Arsenal fans, but came away from it deeply disappointed. Though there are some areas of it where the book shines, it ultimately provides little more insight than one could get reading the newspapers and blogs.