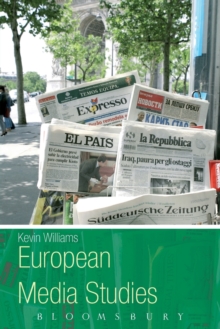 European Media Studies
Paperback / softback
Description
Study of the mass media in Britain and the USA is dominated by an Anglo-American framework.
European Media Studies seeks to redress this imbalance by looking at the mass media in a European context and exploring the European understanding of the role of the mass media in society.
European Media Studies offers a student-friendly, authoritative and thematic approach which engages readers with the transformation in the European media landscape since 1980; the structure and context of the press and publishing, broadcasting, film and music industries in Europe; the practice and performance of journalism across Europe; the role of the EU in the development of the media and media policy, including the attempts to promote a collective European identity; the extent to which national media systems throughout Europe are undergoing a process of 'Europeanisation'; and the role of the media in the collapse of Communism and the rebuilding of the mass media in Eastern Europe since 1989.
European Media Studies will be vital to undergraduates and postgraduates taking courses on European media.
Information
Format:Paperback / softback
Pages:288 pages
Publisher:Bloomsbury Publishing PLC
Publication Date:25/11/2005
Category:
ISBN:9780340719022