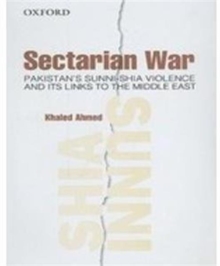 Sectarian War : Pakistan's Sunni-Shia Violence and its links to the Middle East
Hardback
Description
The book is an account of how the Shia-Sunni conflict was relocated from the Middle East to Pakistan after the rise of Revolutionary Iran in 1979, through the mediating agency of the rulers in Pakistan and the proliferation of the religious seminaries funded by Saudi Arabia.
It examines the death of General Zia in the context of the sectarian conflict, goes into the process of production of apostatising fatwas in Pakistan followed by violent action by organizations formed from the non-state actors used by the state for its covert wars.
It also delves into the state of the Shia communities in the Middle East and their historical connections with South Asia.
It examines the rise of Shia culture in Lucknow and its formative influence on the rise of the Shia in Iraq, with a parallel scrutiny of the rise of Wahhabism and its infiltration of India in the eighteenth century.
It records the origins and history of organisations doing sectarian terrorism in Pakistan and their linkages to Al Qaeda whose trajectory into a sectarian identity is also traced to the rise of Al Zarqawi as a parallel leader in Iraq. The book facilitates an understanding of the phenomenon of terrorism in Pakistan today.
Information
Format: Hardback
Pages: 300 pages
Publisher: OUP Pakistan
Publication Date: 02/04/2017
Category: Terrorism, armed struggle
ISBN: 9780195476620
Free Home Delivery
on all orders
Pick up orders
from local bookshops