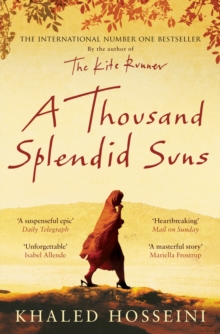 A Thousand Splendid Suns
Paperback
Description
Mariam is only fifteen when she is sent to Kabul to marry Rasheed.
Nearly two decades later, a friendship grows between Mariam and a local teenager, Laila, as strong as the ties between mother and daughter.
When the Taliban take over, life becomes a desperate struggle against starvation, brutality and fear.
Yet love can move a person to act in unexpected ways, and lead them to overcome the most daunting obstacles with a startling heroism.
Information
Format: Paperback
Pages: 432 pages
Publisher: Bloomsbury Publishing PLC
Publication Date: 12/01/2008
ISBN: 9780747585893
Other Formats
EPUB from £6.39
Paperback from £8.65
eAudiobook MP3 from £15.08
Free Home Delivery
on all orders
Pick up orders
from local bookshops
Reviews
Showing 1 - 5 of 9 reviews.
Previous | Next
Review by duhrer
16/06/2015
Having read and enjoyed "The Kite Runner" last summer, I picked up "A Thousand Splendid Suns" when it first hit the charts. I didn't get the chance to read it until a recent cold gave me a bit of extra time next to my night stand. It was worth the wait."The Kite Runner" was an impressive mixture of personal and historical drama, and "A Thousand Splendid Suns" mines the same vein. "A Thousand Splendid Suns" is also a story about Afghanistan, and covers much of the same time period, but where "Kite Runner" focused on the lives of the central character and the men in his life, in "Suns", the lives of four generations of women take center stage.The fortunes of women in Afghanistan vary from the 1970s until the early 2000s. At the low point, a career, education, choice of husband, even the freedom to walk the streets unaccompanied are all denied to women. Even at the high point, the freedom to pursue any of these things is largely determined by the men in a woman's life. With war as a constant backdrop, life becomes a daily exercise in loss, and a daily struggle for survival. Resources for women in this society are a luxury in good times, like education and music, and a burden in bad times. The shocking conditions at the womens' hospital in Kabul and the consignment of a female child to an orphanage to leave more food for the male child are especially striking examples.Hosseini is obviously a gifted storyteller. He takes what must have been an overwhelming flood of stories from the lives of Afghani refugees and distills them down to a compelling handful of threads that make the point without quite overwhelming the reader.This is a great book, and a quick read. Highly recommended.
Review by sleepydumpling
16/06/2015
A magnificent book written from deep in the heart. One of the best I've read in some time. Hosseini brings to life the otherwise hidden stories of the women of Afghanistan.
Review by bookmart
16/06/2015
Not a jolly book but a great tale. (And there's enough reviews around)
Review by abstracta
16/06/2015
I loved this book!! It was so beautifully written and described and really got my imagination going!!
Review by findantonia
16/06/2015
Better than The Kite Runner but even more painful to read. I was very impressed with the way the male author 'inhabited' his female characters so well - it's not that authors can't cross the gender boundary, but that so often when they do in either direction the character is slightly less rounded or convincing in some way, especially in mass selling modern fiction. This was a book where the gender of the author didn't matter, it was the women in the pages who lived.I couldn't escape the pages enough to avoid crying a lot while reading it though.