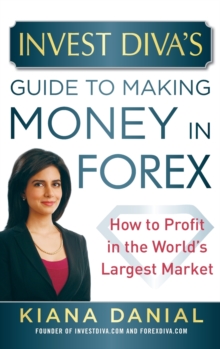 Invest Diva's Guide to Making Money in Forex: How to Profit in the World's Largest Market
Hardback
Description
Q: Ladies, Do YOU Have What It Takes To Become A Forex Diva?A: Yes, You Do.With this incredible new step-by-step guide, investingpro and TV personality Kiana Danial shows you exactly how to understand and take advantage of foreign currency trading. Years ago, the author discovered that women in Japan were making a fortune trading currencies on the foreign exchange (forex) market.
These ladies were not investment professionals or financial wizards; they were ordinary individuals who simply learned how the online currency exchange market works--and mastered it.
Now you can dothe same. In fact, you're about to see just how easy it can be to trade on the largest and most liquid financial market in the world. Kiana Danial spent years studying the habits of investors and discovered that women frequently make smarter, wiser, and less-risky investment choices than their male counterparts.
This is precisely why she founded InvestDiva.com--the woman's guide to smart, safe, and profitable trading. By tapping into women's intuitive knack for multitasking and risk management, the author demonstrates why a woman's natural skill sets make her uniquely equipped to reap the enormous rewards of this extremely lucrative field.
Invest Diva will show you:How the global currency market worksWhy social, political, and cultural events shape tradingThe smartest short- and long-term strategiesBest practices for navigating the economic calendarPlus, you'll learn how to identify investmentopportunities and spot trends using the five points of the Invest Diva Diamond: * Technical Analysis * Fundamental Analysis * Sentimental Analysis * Capital Analysis * Overall AnalysisFrom her popular blog to her worldwide TV and web presence, Danial has become famous for making complex topics fun and easy to understand via simple, everyday analogies.
With Invest Diva, she shows women everywhere the stress-free way to trade currencies--without ever leaving home. What the Boys of Wall Street don't want you to know . . .After years of studying the principles of the foreign currency exchange market, financial expert and financial correspondent Kiana Danial gets to the bottom of today's most curious investment phenomenon: Why are women suddenly making a fortune trading currencies?
The answer is inside this book, along with a roadmap designed to show you how and why forex can work for you. "Kiana Danial breaks down a sophisticated foreign exchange market with memorable analogies that can help the most financially illiterate person understand and gain passion in following the markets the way Ms. Danialdoes." -- FAN YANG, CMT, CEO, FXTimes.com"A must-read if you're considering trading any market or need to know more about trading the forex market.
Kiana is an experienced market analyst and a gifted communicator whose book confirms what a lot ofmen are coming to realize--that women have an edge in trading because they understand the value of analyzing and planning before they risk their time and money." -- JAY NORRIS, founder, Trading University, and author of Mastering the Currency Market and Mastering Trade Selection and Management
Information
Format: Hardback
Pages: 272 pages, 10 Illustrations, unspecified
Publisher: McGraw-Hill Education - Europe
Publication Date: 16/07/2013
Category: Investment & securities
ISBN: 9780071818735
Free Home Delivery
on all orders
Pick up orders
from local bookshops
Also by Kiana Danial