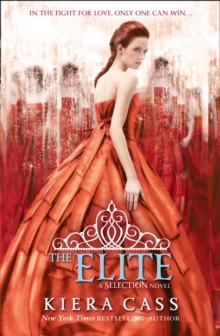 Description
The Selection gets fierce as rivals stake their claim on the prince.Six girls, one life-changing prize...America Singer will leave her pre-destined life for a world of glamour and luxury, if she wins...But surviving The Selection is tough.
Rivals are battling to become Prince Maxon's bride as the threat of rebel violence just beyond the palace walls escalates into war.Only six girls are left and sworn friendships are tested to breaking point.
America's feelings for Maxon grow stronger, but she suspects darker mysteries in his royal past.
With ex-lover Aspen waiting for her in the shadows, where do her loyalties truly lie?
Information
Format: Paperback
Pages: 336 pages
Publisher: HarperCollins Publishers
Publication Date: 23/04/2013
Category: Romance
ISBN: 9780007466702
Free Home Delivery
on all orders
Pick up orders
from local bookshops
Reviews
Showing 1 - 3 of 3 reviews.
Review by LaurenKathryn
16/06/2015
I started this book thoroughly excited at the prospects that it may hold. I enjoyed The Selection, it was quite refreshing to read a new breed of story, so I immediately pre-ordered The Elite and bumped it to the front of my "to read" list. So, it is with great disappointment that I proclaim my absolute annoyance with this book. <br/><br/>It just went round and round in circles until three quarters of the way through the book. Maybe my teenage and immature crush on Maxon shrouded my judgement of The Selection, but The Elite did not live up to my expectations. <br/><br/>Essentially, a lot whining, a lot of filler and not much else. Although, some shred of this abysmal story line captivated my attention for a few minutes, so I shall be continuing this series. It may be the wrong choice but my inner childhood princess is grasping at straws on this one. I suppose there maybe life in her yet.
Review by sscarllet
16/06/2015
This was a great follow on from the first book. It moved the story along and eliminated more of the competition. Even more importantly we learned more about the world the book is based in and just how Illea because what it was. I'm really looking forward to reading the next installment!
Review by JadeR.G1
11/07/2015
It's down to the final six girls. America, Celeste, Marlee, Kriss, Elise, and Natalie. They all wanna win prince Maxon's heart. But what if some of the girls start playing dirty. The rules were all fair play and not allowed to injure the other girls or damage any of there property. The war ofcourse is still going on. Maxon and America wanna demolish the caste system but first they have to get rid of the rebels. What happens when the attacks on the Palace start happening more frequently? What happens when the girls start wanting to go home? Will Maxon call off the selection? Or will it continue? Will one girl make it to the crown? Will it be America? Celeste? Kriss? Natalie? Elise? or Marlee? Guess you'll have to read the book to find out. I enjoyed the elite because of all the actions. Every sentence left you asking a new question. The end of the book even left you with a bunch of questions and cliff hangers. But at the same time, it was romantic,sweet and enjoyable. I rated it a 5 out of 5 because once you started you couldn't put the book down. The only thing left to find out is if America is The One.
Also in the The Selection series | View all