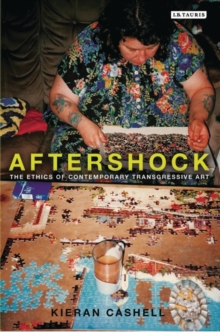 Aftershock : The Ethics of Contemporary Transgressive Art
Paperback / softback
Description
Accused by the tabloid press of setting out to 'shock', controversial artworks are vigorously defended by art critics, who frequently downplay their disturbing emotional impact.
This is the first book to subject contemporary art to a rigorous ethical exploration.
It argues that, in favouring conceptual rather than emotional reactions, commentators actually fail to engage with the work they promote.
Scrutinising notorious works by artists including Damien Hirst, Jake and Dinos Chapman, Richard Billingham, Marc Quinn, Sally Mann, Marcus Harvey, Hans Bellmer, Paul McCarthy, Tierney Gearon, and Tracey Emin, "Aftershock" insists on the importance of visceral, emotional and 'ethical' responses.
Far from clouding our judgement, Cashell argues, shame, outrage or revulsion are the very emotions that such works set out to evoke.
While also questioning the catch-all notion of 'transgression', this illuminating and controversial book neither jumps indiscriminately to the defence of shocking artworks nor dismisses them out of hand.
Information
Format: Paperback / softback
Pages: 272 pages, 23 b/w illustrations
Publisher: Bloomsbury Publishing PLC
Publication Date: 30/08/2009
Category: Theory of art
ISBN: 9781845115241