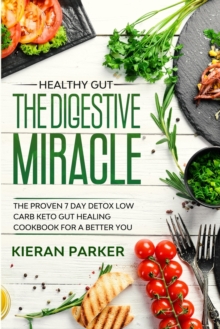 Healthy Gut : THE DIGESTIVE MIRACLE - The Proven 7 Day Detox Low Carb Keto Gut Healing Cookbook For A Better You
Paperback / softback
Description
DISCOVER THE DIGESTIVE MIRACLE THAT CAN DO WONDERS FOR YOU TODAY!
Benefits Include:
✓ Weight Loss
✓ Better skin quality
✓ Gain in muscle mass
✓ Increased metabolic rate
✓ Feeling of fullness without having to eat much
✓ Suppression of appetite
✓ Increase in memory
✓ Control of blood sugar and blood cholesterol level
✓ Wiping out the damage caused by the free radicals
✓ Prevention of Cancer
Recipes You Will Find In This Book Include:
★ Kale Omelet
★ Turmeric Baked Salmon
★ Herb and Goat Cheese Omelet
★ Mediterranean Cod
★ Brussels Sprouts With Honey Mustard Chicken
★ Quinoa Stuffed Chicken
★ Kale and Sweet Potato Frittata
★ Walnut, Ginger, and Pineapple Oatmeal
★ Chocolate Pomegranate Truffles
★ Green Juice
★ Blueberry Kale Smoothie
★ Tropical Kale Smoothie
★ Strawberry Oatmeal Smoothie
★ King Prawns and Buckwheat Noodles
★ Red Onion Dhal and Buckwheat
★ Chicken Curry
★ Chickpea Stew With Baked Potatoes
★ Blueberry Pancakes
★ Flank Steak With Broccoli Cauliflower Gratin
And so much more!
Pick up your copy of the book right now by clicking the BUY NOW button at the top of this page!
Information
Format:Paperback / softback
Pages:214 pages
Publisher:Readers First Publishing Ltd
Publication Date:28/01/2021
Category:
ISBN:9781913710439