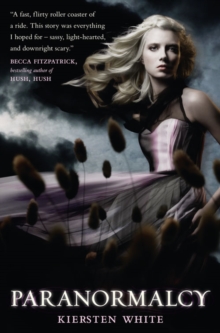 Description
When your world is paranormal, be glad that you're human...
Exciting new author brings a fresh sassy take on paranormal romance, loved by Becca Fitzpatrick, author of HUSH, HUSH.Sixteen-year-old Evie has always taken comfort in the fact that she is normal, even though her best friend is a mermaid and her ex-boyfriend is a lunatic - and a faery.In a world where paranormals are monitored and controlled, Evie works for the International Paranormal Containment Agency because of her unique ability to see through glamours.
But someone - or something - starts killing vampires, werewolves and other paranormals, and Evie must figure out what's happening before they all disappear.Then a shapeshifter named Lend breaks into the agency, and Evie is irresistibly drawn to him, even though he makes her aware that the IPCA is not as noble as she once thought.
With everything Evie believes suddenly called into question, the IPCA is attacked and she must choose who she can really trust.And when Evie discovers she's part of a faerie prophecy of death and destruction... so much for normal.
Information
Format: Paperback
Pages: 352 pages
Publisher: HarperCollins Publishers
Publication Date: 01/01/2011
Category: Fantasy
ISBN: 9780007390113
Other Formats
EPUB from £0.99
eAudiobook MP3 from £16.09
Paperback from £9.49
Free Home Delivery
on all orders
Pick up orders
from local bookshops
Reviews
Showing 1 - 3 of 3 reviews.
Review by CloverHillReviews
16/06/2015
The cover on this is different. To be honest it's not one I would have bought in store just by viewing the cover by itself. It just doesn't tell me much about the story in advance.Evie has had a restricted life. Found by law enforcement at a young age and having been in the foster care system, she now lives in and works for the International Paranormal Containment Agency, due to her unique talent of seeing through all glamour. The first thing that jumped out at me - Evie's taser gun. No don't be fooled into thinking that Evie is a hard-ass quick butt kind of girl, she has her moments, but nothing like what I'd hoped....so the dry sense of humour and naming of 'Tasey' is well fit. I liked the idea of sensored ankle cuffs. From the outset this is a fairly no nonsense book and started off fast paced.I enjoyed Evie's friendship with Alisha, her mermaid friend. Reth, who makes frequent appearances throughout the book has chemistry with Evie, but is not all he appears, and adds twists to the storyline as it progresses. I liked thee 'travel by faerie' idea.The reason I didn't rate higher...I was disappointed with the lack of fight Evie had. She not only accepts everything in her life thus far, it takes her forever to question her background and realise that all is not as it seems. I anticipated a huge fight scene when Evie comes across a large gang of vampires, but was left feeling short changed by that outcome. At this point I struggled with wanting to read more, luckily the storyline grabbed my attention before it dwindled too much. Evie is treated like a child, but she is classified as a level 7, higher than any other species at the IPCA...so it's no wonder that things get so out of hand when the IPCA ignore Evie and disregard her advice. Evie has always felt alone, and the storyline shows you how she slowly gains confidence and gains a friend in Lend.Paranormalcy is about captivity, naivety, freedom and eventually, understanding. It is beautifully written, and I adore Lend, who is supportive and understanding. There are so many characters in this book. My favorite is Lend.
Review by Exactement
16/06/2015
Omg this book was so bleeping fantastic!!! Its funny, romantic, paranormal, three combinations that I practically live for.Summary:Evie has a gift. Because of her gift she's been living/imprisoned in an underground facility, the Center of IPCA. She can see through glamours, facades that paranormals (ex. werewolves, vamps, faeries, trolls, etc.) put up to blend in and not look quite so freakish. IPCA sends her on missions to capture these paranormals. Their purpose is supposedly to protect humans, so when she zaps, tags, and turns in her targets, she believes that they are given jobs, rights, a better life. Then one day a strange creature breaks into the Center, wearing the face of one of the head manager people, Raquel, while punching a few people in the process. So Evie does her usual: zap, tag, turn in. But IPCA still has no idea what he is. As she spends more time with him, mass murders begin to break out, killing hundreds of paranormals. All the while a creepy poem haunts her and Lend, the shape-shifter boy, as they begin to believe that somehow she has something to do with the killings.
Review by Silverlily26
16/06/2015
Fast paced book, different twist on paranormal activity. I enjoyed the interaction amongst the characters, would recommend.
Also in the Paranormalcy series | View all