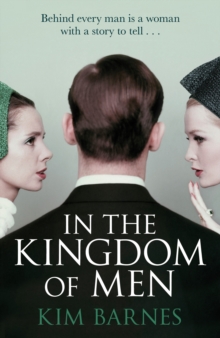 In the Kingdom of Men
Paperback
Description
Behind every man is a woman with a story to tell...When Gin McPhee's husband Mason takes a job at the Arabian American Oil Company in Saudi Arabia, it unlocks a glamorous new lifestyle far from their humble beginnings in Oklahoma.
It is a life of private clubs, dinner parties, and a houseboy at their disposal; all kept within the confines of the company compound.
But as Gin tires of the cocktails and an absent husband, the illusion of freedom is shattered, leaving boredom and curiosity for life beyond the gates - a world she soon finds is one of danger and corruption. And when a young woman is discovered dead in the bay and suspicions point to Mason, the one person she can trust is nowhere to be found.
Information
Format: Paperback
Pages: 336 pages
Publisher: Cornerstone
Publication Date: 28/03/2013
ISBN: 9780099559276
Other Formats
Paperback from £10.19
EPUB from £4.99
Free Home Delivery
on all orders
Pick up orders
from local bookshops
Reviews
Showing 1 - 1 of 1 reviews.
Review by Eyejaybee
16/06/2015
I hadn't heard anythign about this book before I spotted it in the huge Waterstone's store in Piccadilly, but thought it sounded interesting and decided to take a chance on it as part of a "buy one, get one half price" offer. What a lucky choice!It started out with a description of the early life of Virginia (known as "Gin" - the narrator) in which she lost both parents in fairly quick succession while she was still a child in the early 1960s. She was then adopted by an aunt who also quickly died and ended up with her harsh, obsessively pious lay-preacher grandfather who proceeded to bring her up under terms of total repression (rather like Stephen King's [Carrie], just without the telekinesis). I must admit that by the end of the first twenty pages I wondered what I was letting myself in for, and was considering leaving it and writing it off as a bad lot. However, I am so glad that I persisted. Once she managed to escape from her virtual (though not exactly vituous) servitude in Shawnee, Oklahoma, Gin shines through as a fantastic character. Having eloped with Mason MacPhee, sometime college boy and basketball scholarship winner, she comes into her own. Mason does the right thing, and takes her to Texas where he finds work in the rapidly spawning oil fields. From there he is spotted as a potentially valuable drill foreman, and is given the opportunity to sign on for the Arabian American Oil Company (Aramco) and go out to Suadi Arabia where the company operates in partnership with the House of Faud, the Saudi Royal Family. Mason and Gin find themselves set up in relative luxury in the American employees' compound in Abqaiq, with Mason embarking on long shifts at a drilling platform (two weekson, one week off).Barnes depicts the culture shock excellently, with Gin struggling to come to terms with the rigidity of life and the restrictions that apply to all women in Saudi Arabia, even the wives of the American workers. Restrictions are relaxed within the compound but apply as soon as she steps outside. She quickly becomes friendly with Ruthie, the very liberal and unrestrained wife of Lucky, one of the foremen. Ruthie is amazed at how naive and repressed Gin is, and makes it her mission to try to make her more sophisticated. In one episode Ruthie and Gin go into Dharhan, the nearest large settlement where they fall foul of the "mutaween" (the Moslem "virtue police") who chase them through the streets threatening to beat them. The attitudes of the mutaween are alarmingly similar to the views of Gin's grandfather.Life in the compound is potentially luxurious, and far more comfortable thanh anything that Gin has previously dreamt of, let alone experienced for herself. However, it all leaves her rather restless, as does the sensitivity of dealing with servants - their house comes complete with Yash, a Hindu houseboy who had previously lived in India and then Britain where he received a university education, and Faris, a Moslem gardener. Gin is eager to try to become fully integrated with her new world, and much of the beauty of the book lies in her attempts to become friendly with Yash and Faris along with Abdullah (a general factotum for Aramco) much to the consternation of her neighbours who prefer to maintain the rigid segregation. Meanwhile Mason emerges as a defender of the rights and interests of the Arab workers who make up the greater part of the Aramco workforce, but who receive mere pittances compared to their American overseers.All in all this was a fascinating read, with an engaging central character, and I am very glad that something mad me stop and pick it up.
Also by Kim Barnes