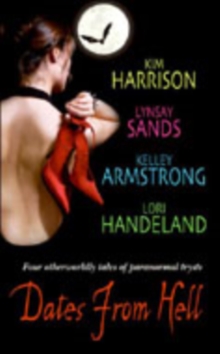 Dates From Hell
Paperback
Description
She thought her date was out of this world.Actually, he was not of this world . . .We've all been on bad dates, nightmare dates, dreadful experiences that turned out to be uniquely memorable in the very worst way.
But at least our partners for these detestable evenings were more or less . . . human!Now Kim Harrison, Lynsay Sands, Kelley Armstrong, and Lori Handeland -- four of the very best writers currently exploring the dangerous seduction of the supernatural -- offer up dating disasters (and unexpected delights) of a completely different sort: dark, wicked, paranormally sensual assignations with werewolves, demon lovers, and the romantically challenged undead.
Sexy, witty, chilling, and altogether remarkable, here is proof positive that some love matches are made someplace other than heaven.
Information
Format: Paperback
Pages: 416 pages
Publisher: HarperCollins Publishers Inc
Publication Date: 28/03/2006
Category: Horror & ghost stories
ISBN: 9780060854096
Free Home Delivery
on all orders
Pick up orders
from local bookshops
Reviews
Showing 1 - 5 of 17 reviews.
Previous | Next
Review by deety
16/06/2015
The best story in the collection was Armstrong's, it was set in the same world as her Women of the Otherworld series, but used only a minor character from those books.I'm a big fan of Harrison, but her story felt awkward. It's backstory from her series, but I felt that it muddled the character of Ivy and made her less interesting. Ivy was better for me as more of a mystery, and I could have done without the Ivy/Kisten relationship detail. In the books, they have almost a sibling relationship, so I didn't enjoy reading about them making out.I didn't like the other two stories at all. One was a cheesy shapeshifting story (by Sands) that was heavy on the romance but pathetic on the paranormal. The Handeland story was about a demon hunter and a woman he tries to protect. It wasn't awful, but doesn't make me interested in reading more by her.
Review by w1cked
16/06/2015
A compilation of apparently "popular" authors, this book seems like a let down... because the first story is atrociously bad. Actually, let me rephrase that, it is not atrociously bad... It just drags on forever, which doesn't seem to be possible because it's supposed to be a short story. However, apparently whoever put together this book put the stories from worse to best. The last story makes up for the lag of the first.
Review by SimonW11
16/06/2015
Fantasy Stories all themed around dates I bought this for The Kim Harrison and the Kelley Armstrong. both good little stories from their usual Milleu The Kim Harrison Novella was the best Ivy Tamwood the vampires stars in this prequel?Will she be manouvered into screwing her boss? What is the difference between Blood Sex and Love when you are a vampire?Hmm Blood Sex and Love what a great book title.
Review by CheriePie69
16/06/2015
The last two stories in this anthology really made this book. Though I like Kim Harrison's writing, her first published short story included here was kind of dry, though Kelley Armstrong's story really rocked. I've included individual reviews for each story below.<b><i>Undead in the Garden of Good and Evil</i> by Kim Harrison</b><i>Read 08-Jun – 09-Jun-2006</i>This is Ivy's story, before she meets Rachel and Jenks and starts Vampiric Charms. We learn a lot more about what makes Ivy tick, and how she comes to her decision to live blood-free as a living vampire. I don't think I enjoyed it quite as much as the full-length novels because I missed having Rachel and Jenks too, but still, I appreciate this story for what it is... a deeper look into Ivy's life pre-Rachel. :)<i>Rating: 6 stars</i><b><i>The Claire Switch Project</i> by Lynsay Sands</b><i>Read 06-Feb-2007</i>Ugh, I should've known I wasn't going to like this one right from the first paragraph. The first sentence actually proclaimed, "A bunny," and I thought yay!! But then it turns out two of the main characters, Kyle and Claire, are running doing experiments and testing on the poor little bunny. And oh boy, I've got a wicked rant I can go on about animal testing, but since it's not really relevant to this review, sufficed to say that it's a wicked peeve of mine that hits a deep nerve.From there, we just have more cutesy, stupid characters who think nothing of hiding the truth from their friends and people they care about. Another pet peeve, one I can usually live with, but when a huge premise of the story is based upon such deception and lying, it angers me even more!I wonder why I kept on reading then... well, it was a short story and I was determined to finish it. And I did laugh at one or two parts. Had I not already read a full-length novel by this author, <i>Single White Vampire</i>, which I fairly enjoyed, I'd probably think twice about reading anything from this author if I were to base it only on this short story. I give it a few points not for the story, but because the author herself is a halfway decent writer, and that at least does come across here.<i>Rating: 4 stars</i><b><i>Chaotic</i> by Kelley Armstrong</b><i>Read 18-Feb – 19-Feb-2007</i>Hope is a tabloid reporter and "supposed agent" for the Interracial Council. As a Half-Demon, she's got skills that enable her detect chaotic events, past or present. While attending a museum gala, she meets up with charming werewolf and jewel thief, Karl Marsten, whom we've met in previous novels. And chaos rules!!This was an excellent story! Kelley really knows how to write a short story and make it as action-packed and exciting as her full-length novels. In this novella, we're introduced to a new character, Hope, a half-demon journalist, whom I'm hoping will appear again in future books or novellas. Since Karl Marsten seems to be romantically interested in her, this may be a good possibility.<i>Rating: 9 stars</i><b><i>Dead Man Dating</i> by Lori Handeland</b><i>Read 23-Feb-2007</i>Kit has been saving herself for marriage and true love, so what could be better than a dating agency named, remarkably, TrueLove.com. Little did she realize that her "date" would actually be a demon from hell, and that her "knight in shining armor" would appear to save her mortal soul?Kit is startled when the rogue demon hunter Chavez manages to extinguish her date in the alley right before her very eyes. But it turns out he's not really dead—or is already dead, I should say—and the demon, part incubus and part Rakshasas, continues to stalk her and attempt to seduce her. For only her virginity can save him. And finding a virgin in this day and age is <i>so</i> rare!With the help of Chavez, they're able to exploit the demon's weakness and bring about his destruction. But as they're told by Satan himself, the end of the world is near, and these new demons that he's made and unleased on the world are here to bring about Armageddon. The story leaves off here, as Kit and Chavez have decided to work together, brain and brawn so to speak, to defeat this evil before it's too late. This story was actually quite good. I hadn't yet read anything else by Handeland, though I've got the first 6 books of her Nightcreature series here waiting for me to find the right time to start on them. So now that I've whet my appetite with this short story, I'm quite looking forward to them.<i>Rating: 8 stars</i>
Review by Tudorrl
16/06/2015
People say football is a game of two halves - and this is certainly a book of 4 quarters!I have to say the only story I enjoyed in this book was the one by Kelley Armstrong. I found the other 3 too predictable and didn't enjoy them one bit.Thank God for Kelley Armstrong then! Her story, "Chaotic", isn't just the best of a bad bunch, it is truly a great story - and adds another layer to some characters we have already met, as well as whetting our appentite with some fascinating new ones.This is a book you would be better borrowing than buying in my opinion as "Chaotic" is the ONLY saving grace
Also in the A Hollows Novella series | View all