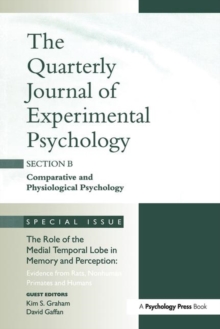 The Role of Medial Temporal Lobe in Memory and Perception: Evidence from Rats, Nonhuman Primates and Humans : A Special Issue of the Quarterly Journal of Experimental Psychology, Section B
Hardback
Description
While it is commonly accepted that structures in the medial temporal lobe play a critical role in memory, current theories disagree on three fundamental issues: (a) the extent to which different regions within the medial temporal lobe can be functionally dissociated; (b) whether structures within the medial temporal lobe are specialised for memory processing or play an additional role in perception; and (c) whether there is support for functional homology across species.
To address these controversial questions, this Special Issue brings together researchers working on memory and perception in the medial temporal lobe and asks whether there is evidence for similar functional dissociations across species.
The papers reported here include lesion and early gene imaging in rats, electrophysiological and lesion studies in nonhuman primates, lesion and functional neuroimaging in human participants, as well as touching on computational modelling approaches.
Pulling together these methodological diverse contributions, a final chapter highlights the main consistencies and discrepancies with respect the three issues under debate, as well as providing future directions for research in this area.
The Special Issue highlights how a cross-disciplinary approach to neuroscientific research can yield powerful converging evidence and help resolve controversies that may seen to exist across methodologies and/or species.
Free Home Delivery
on all orders
Pick up orders
from local bookshops
Also in the Special Issues of the Quarterly Journal of Experimental Psychology: Section B series