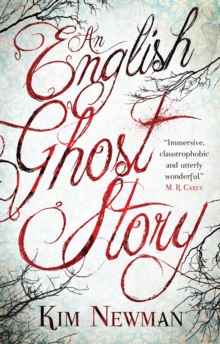 An English Ghost Story
Paperback
Description
A dysfunctional British nuclear family seek a new life away from the big city in the sleepy Somerset countryside.
At first their new home, The Hollow, seems to embrace them, creating a rare peace and harmony within the family.
But when the house turns on them, it seems to know just how to hurt them the most - threatening to destroy them from the inside out.
Information
Format: Paperback
Pages: 400 pages
Publisher: Titan Books Ltd
Publication Date: 07/10/2014
Category: Horror & ghost stories
ISBN: 9781781165584
Free Home Delivery
on all orders
Pick up orders
from local bookshops
Reviews
Showing 1 - 4 of 4 reviews.
Review by dark_phoenix54
16/06/2015
This novel indeed has the structure of a fairly classic ghost story. A family comes to live in a haunted house- haunted land, actually. The spirit(s) start quietly, but very quickly ramp up to full scale, capital H Haunting. This family, however, is not your typical English ghost story family. This is a modern day, dysfunctional, can barely get along family. This becomes an important factor later in the story. The Naremore family is looking for a house in the country, hoping relocation will solve their relationship problems. Nothing they are shown seems right, until they visit the Hollow, recently home to the late author Louise Teazle. The house is very old, with additions put on through the centuries, and the land has been in use even longer than the house has stood. They all instantly fall in love with the house and land, and cannot wait to move in. The Hollow comes complete with the belongings of Miss Teazle. Louise Teazle wrote children's stories that have been read for ages, and Kirsty Naremore is very familiar with them. Some of them seem to have been set in the Hollow itself under a different name, as Kirsty quickly starts identifying furnishings and locations as one's mentioned in Teazle's initial ghost story. How much else of the ghost stories Teazle wrote are true? Kirsty wonders. A lot, as it turns out. While at first the Hollow brings the family together, small upsets anger the spirits. The spirits want the house and family to be just *so* and when the Naremores fail to allow this, the ghosts start setting the family members against each other, unerringly finding their psychological weak spots- and all four of them have some big ones. I mostly loved this story. It's creepy- very creepy. I loved that it wasn't just one recent spirit, but something going back to prehistoric time and all points in between. I loved the magic chest of drawers and how Kirsty is drawn into playing with it, not at all baffled by the fact that it defies all laws of physics. I loved the house itself. But I didn't love the characters. I found them tolerable, but I never made the kind of connection one would like to have in a character driven story. I realize they needed to have personality problems to create the story, but I had a hard time really feeling for them.
Review by titania86
27/08/2015
The dysfunctional Naremore family wants a fresh new start, so they buy a quaint house called the Hollow in the country. This house used to be owned by a children's author whose books focused on a scrappy little girl, her ghost friends, and their home (a fictionalized version of her own home). The family rapidly realizes that the ghosts are real and the Hollow has a charming sort of magic. Everyone is suddenly getting along. All the problems of the past seem to melt away. Around every corner is something charming, inexplicable, and theirs alone. The Hollow is paradise and just what everyone needs. The novelty eventually wears off and old problems start coming back. All of the family members are suddenly at war with each other and the ghosts respond in kind. The charming magic of the Hollow is gone, replaced by menace as the ghosts pit the members against each other. The family is headed towards total destruction with the ghosts poking and prodding to get them there.An English Ghost Story is kind of a bland and nondescript title, so I didn't really know what to expect. It doesn't disappoint. Kim Newman writes beautifully. The first third of the book introduces the characters and shows their idyllic existence when they first move into the Hollow. The family starts to heal, putting aside their petty differences and coming together. I love how instead of crazy infodumping information about the family and their background, it was seamlessly integrated into the text without interrupting the story. I also grew to care for the family as their pasts were fleshed out piece by piece to compare to their present selves. I am frankly jealous of their house. The chest of drawers with Mary Poppins-esque magic is my favorite object. The ghosts revealed themselves to each family member in an endearing and entertaining way. The house seemed to embrace them while they got along, but this didn't last. The old conflicts eventually resurfaced, causing the ghosts to help each member in their ultimate goal: to come out victorious.My problem with the novel starts when the family begins to turn on each other. Each member of the Naremore family becomes obsessed with one thing or another. The father Steven becomes obsessed with dominating his household with an iron fist. The women must serve him hand and foot and follow him without question. He becomes more and more abusive as the novel goes on, eventually coming to blows with his daughter Jordan. The son Tim becomes more and more entrenched in his army fantasy where he alone protects the house from intruders and their attacks. He also turns his sights on Jordan as a perpetrator. The men of the house exhibit extreme, stereotypically masculine behavior and target the women of the house to subjugate. I was hoping these tropes would be subverted in some way, but the change to back to normal is very abrupt. They don't seem to even process what was wrong or why they did things.The women go through a similar change. The mother Kirsty rails against her family and their life, insisting that her life with Vron, her best friend who she left behind, would be better. She looks back on her past failures and only sees her family getting in her way. Then she resolves to be rid of them. This reaction in Kirsty is more shocking because mothers tend to be more nurturing, but I just don't buy it. It's based on a very tired stereotype about women and I feel it would have been just as shocking to hear out of Steven. She does successfully rid herself of Tim at one point, but it seems to only serve to make her the meek, subservient wife that Steven wants because her ambition led to what she thought was her child's death. Jordan collapses inward and becomes anorexic after breaking up with her boyfriend. She becomes a shadow of herself, but then suddenly realizes that she looks just fine and ceases to be anorexic. This angered me because people go to therapy and work on their body dysmorphia for years to overcome eating disorders. To have it come and go so swiftly points to a lack of understanding and another stereotypical female reaction to rejection.This brings me to Vron, Kirsty's mysterious best friend. Everyone calls her a witch ad her friendships are deemed toxic. It isn't ever really explained why or how, just simply understood. I immediately doubt their word because the circumstances seem suspicious and characters are notoriously unreliable. It seemed to me that one of the big reasons they moved there was because Steven hated Vron and wanted to isolate Kirsty from her friend. This just shows that Steven was a patriarchal husband even before the ghosts got a hold of him. The whole situation just rubbed me the wrong way and smacked of impending abuse. Then Vron actually arrives on the scene and she seems like a maniac. The ghosts protect the house from her and she eventually goes away. I expected so much more from Vron and it was disappointing to see her reduced to a creepy, one dimensional villain. She could have been so much more.An English Ghost Story is a slow burning haunted house novel with an eerie atmosphere and lyrical writing. My problems stemmed from the characters, their stereotypical transformations, and the lack of a resolution. The ending has the family too frightened to even disagree with each other for fear of angering the ghosts. What kind of life is that? Never truly resolving conflicts or having yourself be heard is just frustrating and awful. The ending left me less than satisfied.
Review by calum-iain
27/08/2015
"An English Ghost Story" is the story of a dysfunctional nuclear family who move to the sleepy Somerset countryside to start a new life at a rambling house known as "The Hollow". The house is the former home of the famed children's author Louise Teazle. At first things seem fine, but slowly the family begin to realise that there are other presences sharing their new home. Atmospheric, stylish and elegantly written by Newman, the first half of the book is a superb exercise in subtle hints, disquieting reveals and the ratcheting up of tension. As much a story about inter-familial relationships as it is a ghost story, Newman does well in updating the traditional haunted house story for a new and more cynical age.
Review by AdonisGuilfoyle
16/06/2015
Weird. I don't know what I was expecting, or why I <i>wasn't</i> expecting a plot this strange, but Kim Newman's novel both is and isn't your average ghost story. The Naremores, who grow progressively more middle class with every chapter, escape to the country and move into a house named The Hollow. Mother, father, teenage daughter and 'sensitive' son each realise that the place is haunted, but - as with the Freelings in <i>Poltergeist</i> - it's all fun and games to begin with. The Hollow formerly belonged to a children's author, Louise 'Weezie' Teazle, and mum Kirsty is delighted to find a chest of drawers straight out of Weezie's books - the first drawer makes things disappear, the second jumbles them up, and the last produces strange items out of thin air. Troubled daughter Jordan is initially equally enchanted by the house, but soon succumbs to her old anxieties, while Tim makes a host of imaginary friends in the orchard. Dad Steven is simply proud to be the master of such a grand property.The set-up is the strongest part of the story, in my opinion. The Naremores, while never exactly likeable, are all strong characters with a dysfunctional relationship. Kirsty has chosen her family over her best friend, Jordan at seventeen is struggling with both an eating disorder and a wayward boyfriend, and young Tim is 'special' to say the least. The problem with the fantastical events that overtake the family when they move into The Hollow is the whacking great moral that accompanies the story - 'what you give is what you get'. The four of them are basically tormented and nearly driven to death and destruction because they all resent each other - Dad is feeling henpecked, Mum wants a life of her own, Jordan thinks she's fat and Tim has no friends - for which they blame everyone but themselves. The world-building of the Hollow's 'other dimension' is a testament to the author's imagination - and quite scary in places - but I just didn't care enough about the characters to want them to pull together and survive. And the sudden 'awakening' in the final chapters felt rushed and heavy-handed. Creepy, but too clever to work.