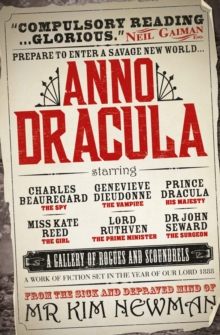 Description
It is 1888 and Queen Victoria has remarried, taking as her new consort Vlad Tepes, the Wallachian Prince infamously known as Count Dracula.
Peppered with familiar characters from Victorian history and fiction, the novel tells the story of vampire Genevieve Dieudonne and Charles Beauregard of the Diogenes Club as they strive to solve the mystery of the Ripper murders.
Information
Format: Paperback
Pages: 512 pages, chiefly col. Illustrations
Publisher: Titan Books Ltd
Publication Date: 24/05/2011
Category: Fantasy
ISBN: 9780857680839
Free Home Delivery
on all orders
Pick up orders
from local bookshops
Reviews
Showing 1 - 5 of 10 reviews.
Previous | Next
Review by AdonisGuilfoyle
16/06/2015
For the first hundred pages, Kim Newman's homage to vampires is little more than a clever but convoluted series of in-jokes, cramming in characters from Bram Stoker's novel and other popular Victorian works of fiction, from Sherlock Holmes to <i>Jekyll and Hyde</i>. Then the plot starts to pick up speed, and two of Newman's best characters - his own - get together. Charles Beauregard is a secret agent working for a government agency known as the Diogenes Club (Conan Doyle again). Genevieve Dieudonne is a centuries old vampire, one of the 'elders' in the new society, who was 'turned' as a sixteen year old girl in Joan of Arc's France. Now, in 1888, Victoria is on the throne, but her prince consort is none other than Count Dracula. Three years after the events of Stoker's novel (retconned to fit with the Ripper murders), Van Helsing and Harker are dead, Godalming and Mina are undead, and Britain is under the control of 'new-born' vampires. A vicious murderer known as 'Silver Knife' or 'Jack the Ripper' is also stalking the streets of Whitechapel, slaying vampire prostitutes. Charles is hired by the head of the Diogenes Club - Professor Moriarty - to track down the killer, and joins forces with Genevieve to better understand his quarry.*Spoilers?*The fusing of fact and fiction is cleverly thought out by Newman, offering a workable theory as to the identity of the infamous Ripper - Jack Seward, doctor and rejected suitor in Stoker's <i>Dracula</i>. I'm not really giving away the plot there either, because Seward helpfully dictates his shattered sanity and twisted crimes onto his beloved phonograph throughout the story. The 'cameo' appearances from historical and literary names alike - Lestrade, Lord Ruthven, Doctor Moreau, Oscar Wilde and the Elephant Man - also make sense, for the most part, but Newman does go overboard with his inclusion of every vampire, on page and screen, since Polidori and Le Fanu.*End spoilers*What rescued the story for me, binding together the premise, plot, and borrowed cast of characters, was quite simply the interaction between Charles and Genevieve. He is the unflappable British spy, masking his deep grief over the death of his wife with intelligence and diplomacy, and she is the sophisticated, powerful creature of the night who breaks through his defences. Even without the mystery of 'whodunit', Charles and Genevieve kept me reading until the end. Classy Genevieve, the bloated and truly evil Dracula (who isn't merely a misunderstood, lonely old man in Newman's alternative history), and the acquired popular mythology of gothic novels, are what vampire fiction is all about. Definitely recommended for Dracula devotees, and there are another two novels in the series: <i>Anno Dracula: The Bloody Red Baron</i> is being reprinted in 2012.
Review by soliloquies
16/06/2015
A bizarre, yet enjoyable, read in a world where Queen Victoria is married to Dracula and several fictional characters are 'real'. Newman's own creations Charles and Genevieve are drawn together to investigate the 'Jack the Ripper' murders. The reader knows who the killer is from the start (which makes a change) and we get to watch Charles and Genevieve solve the crime. Loved the cameos from eminent Victorians (fictional and otherwise) but did find aspects of the book too vampire heavy.
Review by riverwillow
16/06/2015
This is a clever reworking of the Dracula myth as it creates an alternate universe in which Dracula survives the attack lead by Van Helsing and cements his power over the United Kingdom by marrying Queen Victoria. Newman's fiction cleverly mixes fact – Montague Druitt (one of the suspects in the Ripper case) features – and fiction – as well as the characters from <i> Dracula</i> , Jack Seward and Arthur Holmwood, he uses other characters from the literature canon, Lord Ruthven and Mycroft Holmes amongst others.The Silver Knife is terrorising Whitechapel, killing poor vampire prostitutes, so the Diogenes Club calls in Charles Beauregard, a 'warm' to investigate. Simultaneously an elder vampire, who still looks 16, Genevieve Dieuxdonne, who cares for the poor, both vampire and 'warm', of Whitechapel, also starts to look into the murders. Although the identity of the Silver Knife, later renamed Jack the Ripper, is revealed in the first pages of the book, Newman cleverly keeps up the tension by mixing in civil unrest and conspiracy theories. I also really liked that Newman's vampires are real visceral beings, who kill and maim, not the effete 'vegetarian' sparkly vampires of later twentieth century and early twenty first century fiction. Yes there are vampires like Genevieve who try not to kill or maim, unless there is good reason, but we are never in any doubt that she is a dangerous being. Having said all of that I found this a really hard book to get into and I won't be rushing to read any of the sequels.
Review by CatheOlson
16/06/2015
I'm very glad to have discovered this original, complicated but enthralling book by Kim Newman. In this take-off of Bram Stokers Dracula, the Count survived execution and went on to become the consort of Queen Victoria in 1888. England is made up of the "un-dead" and the "warm," and when a killer 'Silver Knife' begins murdering vampire prostitutes, they must work together to track him down. Many names from the original Dracula, as well as other literary works find this way into the story, which is fun.I had a little trouble sticking with this book at first--it is quite complex and with many characters--but once I got pulled in, I could not put the book down. I highly recommend this for fans of the original Dracula.
Review by SonicQuack
16/06/2015
Vampires. They are everywhere and here's one resurrected and reduxed for the new millennium. Anno Dracula has an interesting premise, historical vampire fiction in an alternate time-line. Funky. There are some interesting and quirky characters in there, however the style of narrative (an historical slant to the prose) makes hard reading at times and draws out the pace making the slower parts rather painful. When the ante is up though (midpoint and endgame) Anno Dracula is a blast and enjoyably frenetic. Alas, it's too little and too sparse to create a real memorable piece of vampire fiction - you'll recall the idea, which is great, although possibly not the execution.