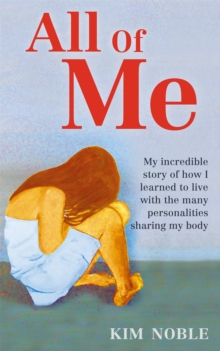 All of Me : My Incredible True Story of How I Learned to Live with the Many Personalities Sharing My Body
Paperback
Description
Kim Noble is an accomplished artist whose work has been exhibited around the world.
She is a mother with a 13-year-old daughter. She is a bubbly and vivacious woman. To meet her you wouldn't think anything was wrong. But when Kim was younger than five years old, her personality splintered and fractured.
In 1995 she was finally diagnosed with Dissociative Identity Disorder (DID) which has been described as a creative way to cope with unbearable pain.
Now her body plays host to more than 20 different personalities, or 'alters'.
There are women and men, adults and children; there is a scared little boy who speaks only Latin, an elective mute, a gay man and an anorexic teenager.
Some alters age with her body; others are stuck in time.
ALL OF ME takes the reader through the extraordinary world of a woman for whom the very nature of reality is different.
It will tell of her terrifying battles to understand her own mind; of her desperate struggle against all odds to win back the child she loved; and of her courage and commitment in trying to make sense of her life.
It is by turns shocking, inspiring, sometimes funny, and deeply moving.
Information
Format: Paperback
Pages: 384 pages, Section: 8, colour photos
Publisher: Little, Brown Book Group
Publication Date: 01/10/2011
Category: Autobiography: general
ISBN: 9780749955908
Free Home Delivery
on all orders
Pick up orders
from local bookshops
Reviews
Showing 1 - 1 of 1 reviews.
Review by mandochild
16/06/2015
I was originally fascinated by the concept of a first person perspective of just one alter. I was immediately struck by just how much "victim" language was in play e.g. "I was only little. What choice did I have?" Even though Patricia was never abused she was clearly profoundly affected in all parts of her life by the abuse.The second part of the book sees a profound shift in mood as Patricia describes her coming to terms with her DID and her resultant life successes. It felt a little uncomfortable reading about her need to make choices about things like whether to display the work of other alters - how could you possibly know what they would choose?Another fascinating aspect to the work is the idea presented of "the body" making choices related to self preservation, for example, a non-driver not being allowed out while the car is in motion, and a switch taking place when someone tries to commit suicide. Additionally, Patricia refers to never having really gotten around to looking in mirrors and to not noticing that the "chat room" she was involved with was actually a Word document in her own house. She managed to avoid seeing the truth by simply not seeing all the details. How does this occur? Who/what makes these things happen? The alters have no awareness of each other and yet subconsciously an aspect of the self allows different alters to be triggered by their preferred environments, such as good or water. How does this happen?The more disturbing question for me is one that Patricia doesn't raise until the end. The alters have no awareness of when they're going to be replaced by another alter, and some dominant personalities have already "faded". What is the possibility of reaching the end of life, not only prematurely, but without even any awareness of death? Presumably all but one alter will be absent at the moment of death and won't know anything about it, unless the body suffers a long, drawn out illness. That is a scary thought.All in all, not quite what I expected, but very thought-provoking.