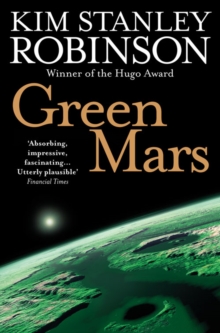 Description
The second novel in Kim Stanley Robinson's massively successful and lavishly praised Mars trilogy. `The ultimate in future history' Daily MailMars can be plundered - for the benefit of a ravaged Earth.
It can be terraformed to suit Man's needs - frozen lakes form, lichen grows, the atmosphere slowly becomes breathable.
But most importantly, Mars can be owned. On Earth, countries are bought and sold by the transnationals.
Why not Mars too?Man's dream is underway, but so is his greatest test.
The survivors of the First Hundred - Hiroko, Nadia, Maya and Simon among them - know that technology alone is not enough.
Trust and co-operation are need to create a new world - but these qualities are as thin on the ground as the air they breathe.
Information
Format: Paperback
Pages: 784 pages
Publisher: HarperCollins Publishers
Publication Date: 01/07/2009
Category: Science fiction
ISBN: 9780007310173
Free Home Delivery
on all orders
Pick up orders
from local bookshops
Reviews
Showing 1 - 2 of 2 reviews.
Review by TheCrow2
16/06/2015
In the second book of Robinson's Mars trilogy the terraforming of Mars continues. The remaining of the "First Hundred" and their followers are living (mostly literally) underground in various communities. The whole terraforming story and the descriptions of the mars fractions is fascinating and beliveable but the book has a huge weakness. Sometimes it's utterly boring... Regularly repeating endless descrtiptions of the surface of Mars, long philosophizing leading nowhere...It's a shame because as I said before the basic plot's great.
Review by MinaKelly
16/06/2015
It took a lot of self-restraint not to read this as soon as I finished Red Mars. I had to restrain myself for two reasons: one, I had too many other books on my to-read pile to justify even buying Green Mars, let alone reading it, and two, I would have burnt out pretty quickly. Much like the first novel, Green Mars is full of complicated politics and complex inter-personal relationships. The plot is glacier in both pace and preventability. I found it harder and harder to put the book down the nearer I got to the end.To quote Wellington: "The history of a battle, is not unlike the history of a ball. Some individuals may recollect all the little events of which the great result is the battle won or lost, but no individual can recollect the order in which, or the exact moment at which, they occurred, which makes all the difference as to their value or importance..."The events in Green Mars are like the history of multiple balls, a whole complex of ballrooms. Overall it is a political novel; it just happens to be set in the future.