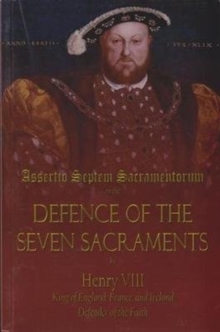 Defence of the Seven Sacraments : Assertio Septem Sacramentorum
Paperback
Description
A most important volume actually written by Henry VIII, whose education and scholarship were renowned at the time, and appreciated even now.
Assisted by Saint John Fisher and Saint Thomas More, the King of England defends the Catholic Faith against the onslaught of Martin Luther's new religion.
Pope Leo X gave him the title of 'Defender of the Faith'.
After Henry's schism from Rome, his book was buried for over 4 centuries.
Now it surfaces again to help Anglicans, episcopalians and Lutherans to come home to Rome, to unite in self-defence against the wave of de-Christianization and cultural islamization of Europe and the Western world.
Free Home Delivery
on all orders
Pick up orders
from local bookshops