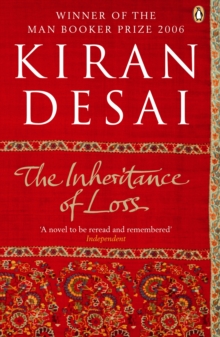 The Inheritance of Loss
Paperback
Description
The Inheritance of Loss is Kiran Desai's extraordinary Man Booker Prize winning novel. High in the Himalayas sits a dilapidated mansion, home to three people, each dreaming of another time.
The judge, broken by a world too messy for justice, is haunted by his past.
His orphan granddaughter has fallen in love with her handsome tutor, despite their different backgrounds and ideals.
The cook's heart is with his son, who is working in a New York restaurant, mingling with an underclass from all over the globe as he seeks somewhere to call home.
Around the house swirl the forces of revolution and change.
Civil unrest is making itself felt, stirring up inner conflicts as powerful as those dividing the community, pitting the past against the present, nationalism against love, a small place against the troubles of a big world. 'A Magnificent novel of humane breadth and wisdom, comic tenderness and political acuteness' Hermione Lee, chair of the Man Booker Prize judges 'Poised, elegant and assured ...breaks out into extraordinary beauty' The Times 'Desai's bold, original voice, and her ability to deal in a grand narratives with a deft comic touch that affectionately recalls some of the masters of Indian fiction, makes hers a novel to reread and remembered' Independent Kiran Desai was born in India in 1971, was educated in India, England and the United States, and now lives in New York. She is the author of Hullabaloo in the Guava Orchard, which was published to unanimous acclaim in over twenty-two countries, and The Inheritance of Loss, which won the Man Book Prize for Fiction and the National Book Critics Circle Award, was shortlisted for the Orange Broadband Prize for Fiction.
Information
Format: Paperback
Pages: 336 pages
Publisher: Penguin Books Ltd
Publication Date: 07/06/2007
ISBN: 9780141027289
Free Home Delivery
on all orders
Pick up orders
from local bookshops
Reviews
Showing 1 - 5 of 6 reviews.
Previous | Next
Review by Clurb
16/06/2015
The Inheritance of Loss looks at India's desire for a better life and its struggle with the concepts of civilisation and nationality. The scope of this novel is large both geographically and chronologically, but the book didn't suffer from it at all. I did, however, find myself reading it very carefully, looking for that something which would makes a good book stand out as a Booker winner, and I'm not overly sure that I found it.
Review by hazelk
16/06/2015
I thought this prizewinning novel was overrated. To be honest I was rather bored by it. Yes, I admired some of the topographical descriptions of the locale and also the chapters dealing with the American work experience on the bottom rung:quite vivid at times. Otherwise I was left untouched.
Review by livrecache
16/06/2015
I feel fairly ambivalent about this book. I recognise that it is well written, sensitive and beauifully crafted, but it really didn't engage me. I imagine the point of the book wasn't to be engaged by the characters but to simply portray them against the background of their time. Perhaps I prefer books that are more character driven. Having said that, I'm very pleased to have read it, as it is a fine book, and I certainly learnt a great deal.
Review by dudara
16/06/2015
This book is set in the Himalayas in a dilapidated magazine, which is hope to three different people. Scattered around them is a community which is facing an upheaval as political unrest spreads through the locale. The house is owned by the judge, English-educated and retired from the judiciary. His orphaned granddaughter shares his home and is dealing with her first infatuation. The last member of the household is the cook, whose ambitions are tied up in the fortunes of his son, who is working a menial job in America.I found the first part of the book to be quite slow. In fact it's nealrly glacial enough in it's pace to make you give up. However, perserverance is rewarded, to some degree at least. Desai raises interesting questions around the notion of national identity. Anglophile Indians who live comfortable isolated lives suddenly face nationalistic pride.I did like this book, but I do wonder as to it's Booker Prize credentials. It is a good story, once you stick with it. It deals with a changing India, as well as relating some poignant individual stories. I would like to belive that it accurately portrays a life in India. A sense of decay and loss permeates the whole book. However, I just don't think that it's a great book.
Review by petterw
16/06/2015
The Inheritance of Loss is a brilliant novel, incredibly well crafted, tactile - you can almost smell and taste what she is writing - with unusual and believable environments and characters. Its only real drawback is that it is a tad TOO unusual, a bit like a Japanese movie you respect but don't get attached to because it is hard to have empathy with everything you read. The three main characters are brilliantly painted. The judge without hope, with the saddest life in the history of literature. The cook and 17-year old Saj are characters we get attached to and who render some sense of hope for the reader and make us believe that loss does not have to be inherited. The novel is highly recommended particularily if you want to learn more about fascinating India and of Indians, but also if you want to read a book to be put down in awe of the author's language and of her great storytelling skills.
Also by Kiran Desai