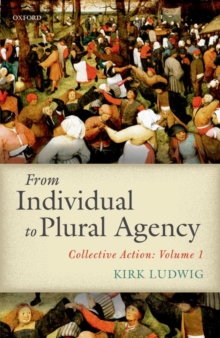 From Individual to Plural Agency : Collective Action: Volume 1
Hardback
Description
Kirk Ludwig develops a novel reductive account of plural discourse about collective action and shared intention.
Part I develops the event analysis of action sentences, provides an account of the content of individual intentions, and on that basis an analysis of individual intentional action.
Part II shows how to extend the account to collective action, intentional and unintentional, and shared intention, expressed in sentences with plural subjects. On the accountdeveloped, collective action is a matter of there being multiple agents of an event and it requires no group agents per se.
Shared intention is a matter of agents in a group each intending that they bring about some end in accordance with a shared plan.
Thus their participatory intentions (theirwe-intentions) differ from individual intentions not in their mode but in their content. Joint intentional action then is a matter of a group of individuals successfully executing a shared intention.
The account does not reduce shared intention to aggregates of individual intentions.
However, it argues that the content of we-intentions can be analyzed wholly in terms of concepts already at play in our understanding of individual intentional action.
The account thus vindicates methodologicalindividualism for plural agency.
The account is contrasted with other major positions on shared intention and joint action, and defended against objections.
This forms the foundation for a reductive account of the agency of mobs and institutions, expressed in grammatically singular action sentencesabout groups and their intentions, in a second volume.
Information
Format: Hardback
Pages: 336 pages
Publisher: Oxford University Press
Publication Date: 15/08/2016
Category: Philosophy of language
ISBN: 9780198755623
Free Home Delivery
on all orders
Pick up orders
from local bookshops